Lest anyone think that American Idol is a snoozer this year would be quite surprised. The show, which has gone through some significant changes in recent years –notably the exit of Simon Cowell—has been a snoozer in, say, the last couple of years. Last year was arguably the worst, and it wasn't just because of the rocky transition into the J Lo and Steven Tyler additions. We were saddled with some middling talent, to say the least. The fact that we ended up with two country stars with no real flash or personality and we crowned someone who had a deep voice but looked like Alfred E Neuman didn't portend too well for the future of this once-lucrative juggernaut. Scotty McCreery, really?
The year before was botched as well. Ellen DeGeneres will probably never live down her disastrous time as a judge because she failed at it; she couldn't bring herself to actually judge contestants –and she admitted this. She was funny in the initial weeks but petered out soon after on a panel that already was tired. Kara and Paula seemed destined to leave and Simon looked increasingly peeved. And for all this we ended up with…Lee DeWyze? That blazing, amazing talent that doesn't seem to get invited to any Idol events or telecasts. The year before? The utter blandness of Kris Allen, which seemed to placate all sorts of staid young girls who couldn't swallow the edginess and flash of Adam Lambert.
Ladies and gentlemen, we still have some of the requisite safe and namby-pamby performers. But the good news is that there is one, OK two, that are singular standouts this year. Even if viewership of AI is down and this format has seen better days, what with the apparent popularity of "The Voice" and better molding and marketing of its star judges, especially Adam Levine of Maroon 5 and the seemingly frequent sight of pants-less Christina Aguilera. Overall Fox concedes that viewers are down about 5 percent, but it's probably more. The whole enterprise still needs some freshening up. We can all heave a collective "ugh" whenever long-time judge Randy Jackson starts every critique with "Yo, yo!" or "Dawg".
All this talk, however, conceals the fact that while a good bunch of the Idol finalists this year have been  certifiable turkeys, the final 5 are, for the most part, an exciting, hard-working bunch who have learned a lot throughout these past several weeks. In some cases they have listened hard to the comments. And in one case there is a talent far beyond what any of us have seen, almost in the history of the show. Let's take a look at the final 5, the inevitable Top 5, as we await the "results" show this evening.
SKYLER LAINE (Odds: 8-1)
Skyler is a deceptive singer. She works hard and is probably the most poised and professional of the bunch. She hasn't faltered and only last week did she finally manage to land in the Bottom
Three. She is primarily a country singer and it's probably this that has made her somewhat elusive and thus mostly unnoticed. It's safe to say that she is passed along because of the perceived musical genre where we've all pegged her. She's far more versatile than we can care to admit and she churns out son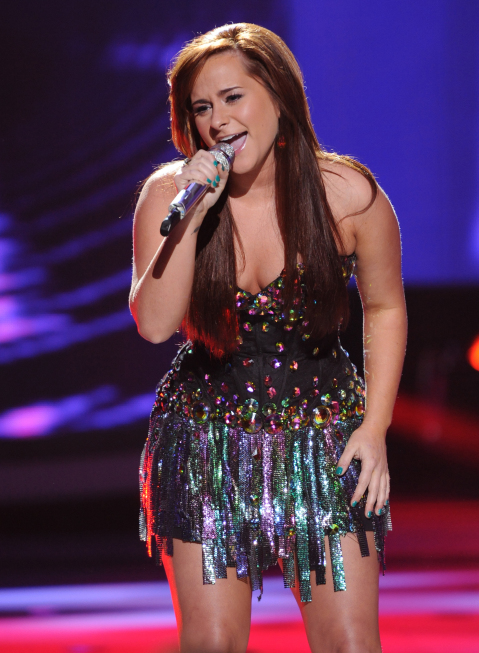 gs each week with a lot of energy and she seems like she is really working at this. Last night, when she smashed through Credence Clearwater Revival's "Fortunate Son", a real barn-storming rocker, she owned it like it was meant for her. (I, too, would not have liked her to do "Knock on Wood"). It also gave us a peek at what this would have sounded like if sung by a female, and not the inimitable John Fogerty.
The second song almost seemed ethereal –and showed her emotional range at its best. It's never easy to replicate or handle the sheer power of Dusty Springfield, a legend of British pop if there ever was one. "You Don't Have to Say You Love Me" starts out fairly sparse but builds to an exquisite ballad and Skyler handled it with a lot of care and dedication. Skyler proved that the song choice can allow you to explore unearthed parts of your vocal range, and allow you to imagine a very different kind of music. But is it? Dusty toyed with country at some point in her career but the strength is that her voice, much like Skyler's delivery, can be just as soulful and satisfying. The main knock against Skyler is that she isn't out there and we don't take her seriously.  I don't have a good feeling about Skyler because of this.
PHILIP PHILLIPS (Odd of winning: 6-1)
F
or some reason, this guy has a popularity that almost belies his actual talent on stage. For the 60s/Britpop-themed show, Phillips managed to keep it so low-key that he forgot he was even on stage. His first effort, The Box Tops' "The Letter", managed to coast by without even a melody in there to begin with, a fact not unnoticed by the judges.  (JLo didn't even know the original —and it was hard to extract it either.) The second song, a hippie number from the Zombies, was probably there to remind viewers that he was the bohemian, organic-type in the group, not the manufactured or slick singer that AI may be famous for producing. With his guitar, however, and tousled brown curls and winning smile, Phillips sure can turn on a crowd –even when the material is ill-chosen or just rides along aimlessly. Tie-dye backgrounds on stage? Really? The point is that Phillips really does not have much of a range, and his comfort level is beginning to wane. The whole Dave Matthews thing with the feet twisting is getting grating and we really don't long for his inevitable version of  "Crash Into Me" if this guy were to stick around. I think we've seen enough of his limited abilities and good hair, smiles and sly stares at JLo has to have its limits. He is the next one out.
JESSICA SANCHEZ (Odds: 5-1)
Jessica was sure riding high in recent weeks, this 16 year old with the outsized voice who has slayed musical dragons such as Whitney Houston, Alicia Keys and Beyonce –all risky singers to try to top, by the way. She was famously saved a few weeks back when America actually voted her off –and this was due to her then-utter tenacity and innocence. The judges just couldn't believe that she was getting kicked off while sourpuss Elise Testone just barely squeaked by. From the start it appeared that Jes
sica was the kind of contestant that "Idol" wanted to showcase: young singers with almost preternatural talent, being able to hit the right notes and make the connection needed to move forward. But given last night's (and the previous week's) performances, I think Jessica is moving a bit too fast in this fame game.
Every week the judges have to mention that she is barely 16; it's getting annoying. Last night it became even more so since she was deliberately trying to sex things up and, well, the results were a little unsettling. Is there a reason a 16 year-old needs to vamp it up with a Tina Turner classic (the second one of the night!), "Proud Mary"? It was all show and no real focus on her voice and obvious talents. Shimmying in a tight dress isn't going to win you the title, so perhaps this is why Randy Jackson found her "just OK". There was no singing per se, and it was all about delivering a moment and this was not lost on many. Her second song, a very understated version of Joe Cocker's "You Are So Beautiful", was also meant to focus not on the rawness or power of her vocal range. But she got lost in the arrangement and the vocal runs seemed perfunctory, to say the least. Instead of giving herself to the moment and the emotion of the song –as Hollie did—she surrendered to the image that she herself is not yet comfortable in embodying. I think she was weak overall last night and if the girls don't save Philip or boys don't save Skyler tonight then she may be the fall girl.
.
HOLLIE CAVANAUGH
The prize for the most improved singer this season undoubtedly must go to Hollie –no matter how she finishes this season. She started out slow and has picked up the comments from the
judges, been in the bottom a few times, and yet she still manages to surprise every once in a while.  She still has a tendency to pay too much attention at how she "looks" and the overall atmosphere around her and less to the voice, something that Stevie Ray Vaughn and Beats by Dre cap-wearer (cause he is an exec and has to hawk the goods) Jimmy Iovine mentioned to her before she went on stage. But she prevailed. Her improbable take on "River Deep, Mountain High" didn't ape Tina Turner; no one could do this justice. She brought this song back to its soulful roots, starting out simply and then getting more into the valleys and crescendos of this difficult song. This wasn't playing it safe at all: this was a controlled performance that exudes not just the confidence but also the accumulated work she has done this season.
Her second song worked even better, with a contemporary selection, Ryan Tedder's "Bleeding Love", made famous by Leona Lewis. This is a song that most people know since it's recent, and the arrangement worked so well because it focused on the heartache of the song's lyrics. It helped that Hollie had spectacular lighting, a haunting red, next to a piano, and lyrics delivered wistfully and meaningfully.  It was hard to imagine that this was the same singer who had given somewhat unmemorable versions of songs only weeks before. She seemed tenuous and unsure, but I think this experience has made her realize that she can push herself. I think Hollie deserves another week on the show.
JOSHUA LEDET (Odds: 2-1)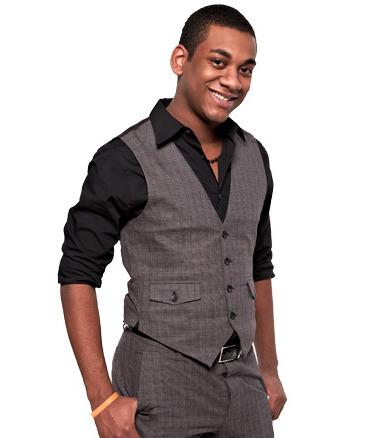 There is such a disparity in talent this year and Joshua Ledet is the single most important reason –by far—why he is probably one of the most accomplished and powerful singers to grace the AI stage. The judges run out of things to say –they're speechless and so taken aback by his performances since they seem to top each other every week. The stage presence is one thing –Joshua is self-assured, quiet and unassuming to a tee. But there is a spark that emanates when he is turned loose and last night was no exception.  Declaring that he has a true "gift", Iovine and Vaughn seemed so incredulous after running through "Ain't Too Proud to Beg" before he went on stage. Of course! How could he possibly not match (if not exceed) David Ruffin's soulful turn on this Temptations classic. This wasn't a retro performance made to take you back to the 60s. Did you hear the yearning chug-chug of his voice in the chorus? The back-singers right up on him? Those stripey sleeves! This was a performance for the ages, blasted out in furious but plaintive tones. Even Randy noted that he was harking back to when R&B was cool —uh, when hasn't it been cool? Calling him a singer in the vein of Terence Trent D'Arby, Randy wondered if Joshua wouldn't mind being this kind of soul singer.
So how cool would it have been if Joshua had come out for his second performance and stormed through TTD's "If You Let Me Stay" or even "Dance, Little Sister?" Even as a coincidence! Maybe Randy
is on to something because Joshua could knock out these gems in his sleep the way he is singing. Instead, Joshua did one better. He took a song suggested to him, an old Bee Gees song from the late 60s (thank God), "To Love Somebody". And this is what he did. He walked away for 15 minutes, having never heard the song and came back and nailed it. On stage it was peerless, a performance that was so moving and yet imbued with yearning that the Brothers Gibb didn't intend necessarily. He made it his own —and yes, I do hate that expression, too. Here was a song that he didn't know two days ago and yet he sang it like he had been singing it forever.
This is the mark of a truly gifted singer: always changing, always adapting, but being true in your own personal and remarkable style because you have to leave your mark somehow.  Joshua has stage presence for days, and raw talent that will allow him to slay most any styles given to him. We can expect nothing worse from him because he has already scaled some impressive heights. He is probably the best raw talent voice on the show since Fantasia (his #1 fan), perhaps even Chris Daughtry, perhaps even as far back as Kelly Clarkson. But he has to stay consistent and not peak too soon. He has to remain focused on song choice (he wanted to do Tom Jones??) just in case America begins to tire of him and vote him off. If he does this he could write himself a stellar career.
Most Popular Posts