5 WAYS TO MAKE ABC's "THE CHEW" TOLERABLE
The loud trainwreck that is "The Chew", which premiered this past Monday on ABC not only as yet another food-theme show but also as replacement for "All My Children" the 40+ year legendary soap that ABC killed earlier this year, has not been the smashing success that the network had hoped. Or is it early to tell?
Ratings have taken a nosedive already. According to Media Insights, the weak premiere of this heavily-hyped show of 2.1/7 already slid to a 1.8. We wonder why.  We wonder why TV even needs yet another hour-long food show during the day, when we already have Rachael Ray and an entire Food Network that serves this stuff up in 30-minute chunks 24 hours a day. And over at Hallmark, where Martha Stewart's empire has been relegated since last year because of dwindling ratings, she isn't doing all that well either.

ABC must have thought that it needed to have a slick, relatively "live" (which this show is not, by the way) production and make it like an info-taining talk fest but have cooking be the star of the show. That's a tall order, and one that doesn't necessarily make for engaging TV, especially when you have five bodies all competing for the microphone. See, this isn't a cooking show where one person dominates, like Stewart or Ray or even Emeril Lagasse, all of whom can at least be entertaining. "The Chew", I would argue is experiencing a severe crisis of identity: what kind of show, or format does it want to be?
You have five relatively dynamic personalities, chosen not just for their sometimes type-A personalities, but also because they must have tested well on some Q rating with foodies or people who like to watch food shows. Chef Michael Symon is a well-known chef from Cleveland, best known for his work on the Food Network and anointed "Iron Chef", that most prestigious of titles there, a few years back. He's bald and bold –a meat and potatoes guy but with a heart, even if he comes across as awkward sometimes.
Take day one: we kept getting reminded constantly that this was the first epsode and Chef Symon had the honor of cooking the first dish of the show –a pork dish with greens and white beans. Serving the dish to the audience members he got pretty close and asked them what they thought of it. This is how you make a show exciting?
Another host, Clinton Kelly, has tended to be the moderator or presenter each day, and he doesn't even have a food background. He reminds us all the time that he's the lame host of the lame "What Not to Wear" on TLC. It's lame because it's a blander and watered down version of the original UK series. On the first day of the show, he was amped up and feeling "fabulous", as if he had taken several Red Bulls.
Carla Hall, a former caterer and cook from Washington DC is arguably the most likable, having earned a lot of that from her two seasons of "Top Chef". She is a southern cook, focusing on comfort food and with her bug eyes and red eyeglass frames, she is quite a sight and, despite several screams on the first day, she can be fun to watch.
Not so Daphne Oz –again, someone who has no food background but who has a famous Dad (Dr. Mehmet Oz, as in the highly-rated medical talk fest), and is here to bring a "healthy" outlook to living. That, of course, sounds like a wet blanket, which she is.
Rounding out the team is Mario Batali, the Mario Batali, whose motto is "There are two people in this world –people who are Italians and those who want to be Italians. Batali is arguably the most well-known and accomplished in the cast. And he gets the choicier segments. So why on the first day was he not live in the studio? Why was he on a live remote in New Jersey on the 14th hole during a charity golf tournament? Did he have to really phone this in, literally, waiting a few seconds for awkward q&a, and in the process, burning the crust of the margherita pizza?
Five shows into the series and it's clear: the show is still a mess and we wish it were a smoother affair. The pacing is still wincingly stilted; the interactions are still lame and uninspired. The show seems to invent segments such as "Carla's Gon' Be Moments" –(how to rescue a cooking disaster) as if these will be regular features. The problem is that many of these segments are already tedious already.
We'd like to suggest some changes that we hope ABC and the producers will implement before the network decides to bring back the characters from Pine Valley to daytime TV:
1. SHUT UP!
Is it possible to tone the volume down? We're talking shouting, incessant interruptions, audience commands to applaud nothing, and the dueling hosts who don't seem to have anything interesting to say sometimes. Honestly, all we heard on day one was this was going to be a "great show", this is "the first show", and isn't everyone wonderful? By day two, Kelly was shouting a bit less but by Wednesday he was ramping up things with his arms.
ABC should almost install a volume meter on the screen, one that zaps each host if they decide that they need to shout something, like when Carla went running into the kitchen pantry to get some canned broth for stuck-up guest Joy Behar's tomato sauce. It's just too much noise and makes this allegedly serious show about food feel like a circus. This will get tiring fast.
2. LOSE THE DAPH
Daphne Oz has no purpose on the show except to annoy. On the first and second day she made sure America knew what psycillium husks were and literally shoved it down our throats. Why is she an expert? Because she just wrote a book called the "Dorm Room Diet" and smoothies with these husks made her lose 30 pounds when she was younger. Thus she is the resident health nut, and supposed voice that will tell the others not to use too much fat or salt in their foods. I guess it helps for ABC to trot out her famous father, who waltzed in with his heavy hand on the first day, allegedly to congratulate his daughter. The younger Oz simply isn't a TV personality –she comes across as meek and halting. Batali has already taken to making fun of her expected pronouncements because she doesn't even try to sound authoritative or interesting. But the most damning part of Oz is this: she doesn't seem to be comfortable around food at all. When she could barely help Symon in crushing some San Marzano tomatoes the other day, he literally lost his temper and took away the can from her. Couldn't Carla do this? Couldn't Symon do this by himself? These are instincts that you cannot fake.
3. STOP TALKING DOWN TO THE AUDIENCE
The hosts, especially Kelly and Oz (to their detriment), have this halting habit of reading the latest food headline, usually a "research shows" kind of story, and they do this, oh, while at the other end of the counter, Symon is sweating some onions and garlic in a pan. The effect is that we are just tossing these things around and minimizing their importance. Kelly one day even brought in an actual newspaper and opened it up, to give the impression that, well, he was just sipping some coffee and he came across this or that. The more general point is this: as soon as "The Chew" realizes what kind of show it is, I would recommend that this not be a show that preaches this or that about food –how to's, favorite tips, or, hey, Michael Symon's love for the microplane and how your life will change. Really? Why not organize the show around themes and just cook away! Bring guests in. Bring audience members in and talk to them like adults, not the bib-wearing puppets that get to sit there and politely say the dishes they are being served are "good".
4. STOP MODELLING YOURSELVES AFTER "THE VIEW"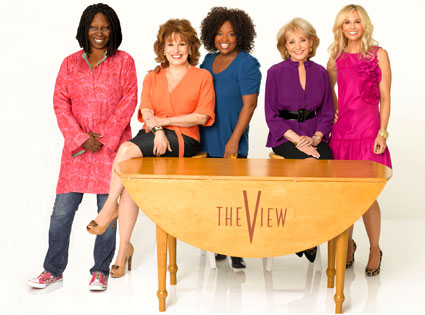 This show needs some real people. But I'm not talking about the hosts. I'm referring to the fact that there is an audience out there, or even guests that can come on your show. Make sure people feel natural and not scripted or forced. Let food be the anchor and lose the tacked-on chat segments about how coffee is bad for you. There are no "hot topics" about food –a reference to what constitutes the first 20 minutes of "The View". Don't ask your "friends" from "The View" like Whoopi and Joy for some advice about what makes a good talk show and then ask them to start cooking food. They could care less; they just want to eat. Barbara Walters wouldn't deign step foot on this show because, well, she isn't quite sure what it is either. And the way she has been the disciplinarian on her show for 15 years, she wouldn't deal with five people trying to talk at the same time, either.
5. DONT GIVE MARIO A SCRIPT (Bonus: Make him angry)
Here is our most radical suggestion, and it's worth it not just because Batali is far too cool and hip to be trapped in this formulaic mess, but also because he is famous for being a loose cannon. Like Emeril, Mario used to be one of the first chefs on the Food Network. He is a friend to many, from perky Rachael Ray and Martha Stewart, to his pal, the crankier non-conformist Anthony Bourdain. He is a master — his fare is classic Italian and he does this with quickness and finesse. But he also isn't a bubbly sort like other chefs and I have to believe that he can't stand reading bon mots off a teleprompter. We would love it if the rest of the hosts got their script and showed up one day –and left Batali out of it. Turn off his script. Let him be natural. Allow him to be admirably cranky, and really tell us what's on his mind. His words could be the most refreshing thing on the show, and that's one thing that would feel unforced compared to the other canned elements of the show. How to do this? Just give him a pan. Or if they don't want to give him a script, just tell him to cook.
Everything.
Related Posts