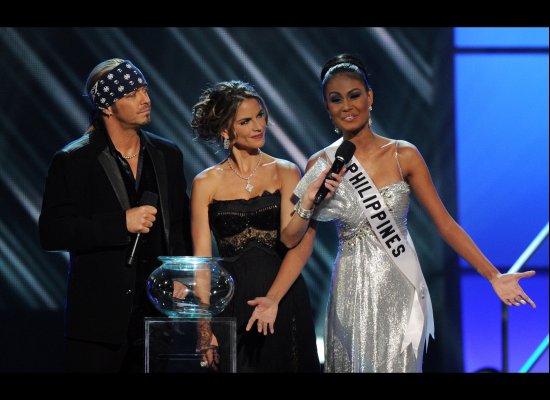 Let's get real: the Miss Universe pageant is a mostly bloated, hoary affair, now resurrected by Donald Trump and his lackeys and it's essentially a travelogue and two-hour commercial-filled tribute to Las Vegas, which is where this tired blimp has now parked itself recently. The show, telecast by NBC last Monday night, even lost 10% of the late summer audience from last year, so maybe this thing really is on its last legs.
It didn't always used to be this way. I can recall back in the 70s, during the real heyday of this show, when CBS would televise this event live from various world capitals and with host Bob Barker's finesse, bonhomie and good humor, there was real suspense and the show usually ranked #1 and was generally a well produced show.
Now what we have is mostly noisy joint, with C-list guest judges and undistinguished hosts who simply read off cue cards or teleprompters and do frequent costume changes. That was in effect the other night, with a bandanna-ed Bret Michaels, the winner of this year's "Celebrity Apprentice", also a Trump enterprise that is on NBC and NBC's "Today" show anchor, Natalie Morales, who is trying to do for NBC reality shows the same kind of distinguished work Julie "Chenbot" Chen does on CBS for "Big Brother". The two had zero chemistry. Bret can barely read or act like he's not just there collecting a Trump paycheck. At one point he was whispering something into Morales's ear and she had to elbow him because the camera was on them as he was missing the cue.
The judges were scarcely better. Sitting in front of a stiff Trump and a coterie of overly-made up Las Vegas officials and Miss Universe officials, these were, of course, judges that really had no experience whatsoever judging pageants. (We'll leave aside the very purpose of beauty pageants for later.) There's Evan Lysacek, this year's Olympic gold medalist figure skater and "Dancing with the Stars" runner-up! He looks thrilled to be there along with Mr and Mrs. Billy Baldwin –a grizzled Billy, again, here for the check and his gaunt wife Chyna Phillips, who, last time we saw her, she was angry that her sister Mackenzie spilled the beans on their horny, druggie Dad John. Oh, and there's Jane Seymour and that heart-shaped necklace sold at Zale's that's made her rich. Oh no! Is that Sheila E, percussion extraordinaire and Prince protégée from the 80s? Living the Glamorous Life?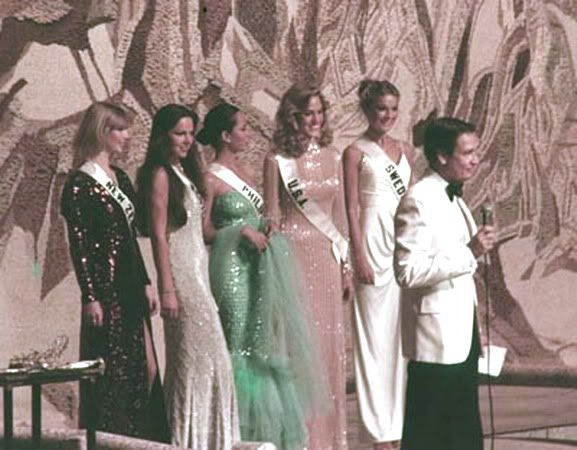 So of course the whole thing is about the contestants, all of whom are vying for the crown of Miss Universe. They have been at the Mandalay Bay Hotel all week, shooting stupid and ridiculous promos, attending the hot new topless "beach" clubs inside some of the hotels on the Strip, stuffing their face in chocolate, general frolicking, hugs in swimsuits, pledges for international understanding, group shots for eager publicists, etc., all of which gets to be replayed during the show last Monday. Mind you, the show is packed with commercials of the traditional kind, but then again the show itself is a virtual tribute to the Las Vegas Convention and Travel Bureau. (Funny, I just got back from Vegas and I didn't see a shortage of tourists, even despite 114-degree temps.)
It really doesn't matter too much who won, since it's all inconsequential anyways. The whole "parade of nations" starts the show and Miss Thailand won both the most photogenic and best national costume award. The awards are tabulated online and then some press people also vote; in fact, you could still access the contestants' somewhat poor photo portfolios online and see who are the favorites, even after the fact.
Let's get to the moment heard seen around the world –this is, after all, a live worldwide telecast beamed everywhere, even if it's the early morning in other parts of the globe. From all the contestants, the judges whittle the competition down to an initial Top 15, then a Top 10, and then the final 5.
And from the audience's reaction there were some favorites, but arguably none more popular than the statuesque 22-year-old Miss Philippines, with the cool name of Maria Venus Raj. It's the final 5 of the competition and all that remains is a Q & A session where the ladies get to select a question from one of the judges. Miss Philippines is doing pretty well, earning the loud cheers from the audience and racking up decent scores in the preliminary categories –she is up there in the high 8's and low 9's. Her competition appears to be Miss Mexico and the even more statuesque Miss Jamaica. Even Ukraine, with her wide eyes, seems to be a bit of a surprise.
So here they are, and here we are; it's the very final stretch and there are maybe less than ten minutes left to the telecast. We'll know right away who's gonna win this thing and get all those fabulous prizes and move in to Trump Tower. This question stands in the way.
After the other four finalists answer their questions neatly and with poise –hell, even Mexico got off a classy response to a dumb one from judge Nikki Taylor about how to keep your kids off the evil Internet—it was Philippines' turn. Billy Baldwin asked her what mistakes she has made in her life and how did she learn from them. Not a surprise, not a "gotcha" moment. Surely if the ladies can talk about evil websites, they should be able to tackle this one.
And it all just came apart, right in front of our eyes. After the requisite "Good evening, Las Vegas!" shout-out, Miss Philippines seemed all too aware of herself and perhaps took in the adulation too much for her own good. And her response, in the clip below, completely flummoxed everyone. For in very clear terms relating, perhaps to her own self-involvement, the "moment", being "in the zone", or maybe even her strong (probably Catholic) faith, she declared that she had made no mistakes in her "22 years of existence". Whew! What a relief!
The tumbleweeds that you heard in that split second when she finished and just before she went back to where she was standing, waving and smiling to some cheers from the audience was the moment that, if you'd ask her today, would be clearly the biggest mistake of her life. Right there, at that moment, despite all that rigorous coaching and intense preparation she had put in, she lost the crown that was almost surely hers to lose. And just as quickly, right after the final commercial break, the hosts were whisked into action, ready to announce the finalists in order, fourth runner-up, third runner-up, etc. Usually at this frenzied point, they bring out these guys with floral bouquets as they announce your name and whisk you away. That's' because everyone wants to get to the very final moment, where it's just two, the first runner up and the new Miss Universe. As fast as they possibly could, Miss Philippines was the first to go. It's hard to imagine that this quick dismissal was not because of the way she answered that fateful question. All that preparation, all those handlers, all her squadron flown in from Manila, her hordes of supporters watching her in the early morning back home –all of it gone in a poof.
Which is why it's almost bittersweet to watch this next clip. Had Miss Philippines won the title, it would have been almost prescient. But in retrospect it makes us smile because it shows the kind of adoration and support she, like many of the contestants, had back home. This group of uh…guys, curled up like it's some slumber party in the early morning back in the Philippines, are watching the pageant. It is also showing the announcement that Miss Philippines has made, as the final one chosen, the first top 15. Note not just the pandemonium, tears and joy that occur around 2:25. But think about how they would have reacted to how Miss Philippines answered that rather simple question a couple hours later. Wonder how they felt when she didn't take home the crown.
Most Popular Posts