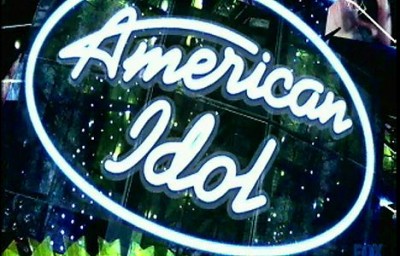 It is honestly hard to muster excitement about the final four American Idol contestants. Many have called this the most lackluster season, one that given us mostly stiff and uninspiring contestants, and we're inclined to agree. This wasn't the season of an unusual talent, like Adam Lambert last year, an artist who transformed some song choices like David Cook (remember what he did with Mariah Carey or "Eleanor Rigby"?,  or even the crowd pleasing charm of a Carrie Underwood.  No one this season has generated much originality, or at least these streaks of brilliance haven't been sustained. Remember when (now-departed) Andrew Garcia did Paula Abdul's "Straight Up"?
He ended up doing safe and warmed-over covers after that, until he sang a disastrously jangly "Hound Dog" during Elvis week? Remember when Michael Lynche owned the stage early on, belting out a pitch-perfect version of Kate Bush's "This Woman's Work", a song that Maxwell sang to perfection? Remember those days? Well, they haven't been replicated since.
It hasn't always been the contestants' fault. Who wants to really sing songs from the Shania Twain collection? How many of us can name more than one of her songs? And aren't Elvis and Sinatra songs not just mawkish but so uncontemporary that they risk being anachronistic? The artist mentors, ranging from Gloria Estefan to a hoary Harry Connick, Jr., have barely managed to contain their listlessness at having to listen to warblers like Casey James attempt to sing something heartfelt. No, this has not been the season where we can expect surprises or, especially as the season winds down, stronger, showier and riskier performances. Everyone is playing it safe and vanilla. It's as if they're also trying to wrap this all up quick so we can put this baby to bed and forget it.
We're going to try to keep up with this trainwreck for the next couple of weeks, leading up to the May 25 and 26 and predict the final four, in order of who will be the next one kicked off. Of course, we have tonight's theme of "Hollywood at the movies" as evidence not only of how grim this season has been, but the individual performances failed to inject any life into the evening. Only the duets, especially between Lee and Crystal, managed to be both lovely and evenly-measured by two singers who are far more powerful together than as one.
CASEY JAMES: Casey has been the pretty boy throughout this season. Even Tim Urban, whom judge Ellen DeGeneres professed a crush for, couldn't hold a candle to this guy, and he inexplicably stuck around longer than many expected. But Casey has a musical instrument –a guitar—that makes you forget that he doesn't have much reach in his voice. He is incapable of defining himself at all, apart from something slightly folky, slightly pop, but still incapable of being believable. Casey's problem is  not knowing what he is and therefore not capitalizing on it and selling himself accordingly. Tonight's bizarre choice of "Mrs. Robinson" from "The Graduate" didn't help. Randy expressing surprise about this did him no favors, nor did the singling-out of Kara as Casey's own "Mrs. Robinson" –the older woman seducing the younger guy"–.  Casey looked at the list of songs from this week's "Movie" songs and this is the best he could find? Even last week, James seemed a little outclassed and off-key in parts when paired with ousted contestant Michael Lynche. It's not just the stage presence or the pony-tail. Can you really imagine a lot of emotion coming out of him? That's probably been the biggest knock against him: is it his clear skin and beard trim that's keeping the girls voting for him or is it his not-so-risky dives into unmemorable songs?
This week, as the final 3 get to go home and visit their hometowns amid corny, local Fox newscasts and keys to their city during weird parades, each is assigned a song to sing by one of the judges, plus they sing two songs of their own. You can just imagine what kind of dullness will emanate from when as Kara and Randy ask him to warble through John Mayer's "Daughters". James will the be the next one to go on this choice alone.
CRYSTAL BOWSERSOX: It's hard to get past the name. Yeah, "Bowersox" doesn't quite roll off the tongue. Her singing has been uneven, with both heartfelt belters that have given her comparisons to Janis Joplin, as if Joplin is really a crowd-pleaser. The dreads, the guitar and assorted tattoos (although not as many as Siobhan Magnus) make her a little bit edgy and folk-rock-ish, in a Lilith Fair kind of way. But she has passion. She can take even eye-rolling genres and make her way through them and in her own style. She doesn't seem to want to grandstand, nor does she bite back at the judges when she doesn't like their comments. Last week, in an especially stirring duet with Lee Dewyze, they foreshadowed what will likely be next week's finale and a pairing that will showcase this season's two top finalists. Their version of  "Falling Slowly" from the excellent film "Once" was a near masterpiece, and much better than either her or his solo effort.
This week, we'll expect her to revisit some of her emotional moments as Ellen DeGeneres asks her to sing Paul McCartney's "Maybe I'm Amazed". It's probably an odd choice and we're wondering whether it's the rock style or guitar that attracted her to it, but we also think it's a brave choice. She will likely slow it down and take out some of the sweeping melody, which may be too much for this stage of the competition. Bowsersox deserves a fitting end to her Idol and she will probably make this as emotional as some of her previous performances.
LEE DEWYZE: Arguably the best vocalist this year, though it took some time for him to come into his own. He has been uneven on a couple of occasions. No one, for example, really believed his rendition of Elvis's "A Little Less Conversation", which should heretofore be banned from "Elvis Night" –it's just a terrible song that shouldn't be redone anymore. But Dewyze has still worked hard. He has taken some of the judges' comments to heart. If he was going to continue his stone-faced act for a while, he would have had what befelled his good friend Andrew Garcia, who couldn't quite gel with his song choices. But at least Garcia smiled and seemed content. Dewyze, whether it's nerves or shyness, has had trouble simply making himself comfortable on stage. When he is heartfelt, as when he covered Simon and Garfunkel's "The Boxer", he comes across as earnest. But at least this was a song that allowed him to really understand where he is in this stage of the competition. He has been in general a competent singer throughout, but he still needs to feel more triumphant and accepting of the adulation that a lot of the fans are sending his way.
This week, Simon Cowell, in his final act as judge, will assign Leonard Cohen's "Hallelujah" to Dewyze, which should promise not just more emotion but a chance for him to connect fully with a song and an audience that wants him to appear in next week's finale. The song has become a little iconic by now, since it seems to appear on a lot of these types of programs nowadays —proof that a song can have lasting power.
Predicted order of finish: Casey James, who should be out tomorrow, then Crystal Bowersox and the next American Idol, a slightly reluctant Lee Dwyze.
Related Posts