Last week saw the much-hyped premiere of
Jamie Oliver
's Food Revolution on ABC. It did pretty well in the ratings (well, who watches TV on Friday nights anyways?) and it was all over the media outlets, from Larry King Live to the Oprah Winfrey Show. The preternaturally boyish celebrity chef from England, with executive producer (and also boyish) Ryan Seacrest in tow, were busy telling the nation that it was facing a crisis in how poorly its children were eating in public schools all over America.
For this 6-week reality series, Oliver and camera crew were to spend one week inside a school kitchen in Huntington, West Virginia, which had been cited as America's fattest city —i.e., where the population had exceeded average rates of obesity. For producer Seacrest this was a far cry from the vacuous Keeping Up With the Kardashians saga for sure, but this was something extremely serious for Oliver, who besides being a celebrity in print and on TV, has spent the better part of the last decade on a crusade to help bring healthier changes to the diets of children in other parts of the world, including his native England. How on earth could this be something compelling for American TV?
The key: let's make Oliver out to be the sore thumb; let's make him out to be the oddball who barges into the elementary school and bark orders at the "bad guys", the  lower-middle class "lunch ladies" (itself a pejorative term, according to one of the food service workers), and berate them that feeding kids processed cheese pizza squares for breakfast was not his idea of nutrition. This was to be a battle royal, and for a while, this fight made for some captivating TV.
Oliver almost starts crying for dramatic effect when he finds out that the children
at the school do not know what a knife and fork are because they have never been provided as part of their meals. (Spoons are for the pizza and the requisite yogurt cups that they will toss out anyways.) In another segment, he visits a first grade class armed with various simple vegetables that every student fails to identify.
Holding a trio of plump red tomatoes in his hand, one child raises his hand and offers, "Potato!"
OK, we get the point: it's not just that American kids can't recognize that French fries come from potatoes or that they shun a perfectly cooked chicken breast in favor of their oft-eaten (processed) chicken nuggets/fingers. But we as parents and teachers have also failed our children in what we provide to them, and thus they really know no alternative when it comes to deciding what to eat and what to throw away. Oliver's attempt (twice) to cook up his own meal —chicken pasta with whole grain rolls, rainbow cole slaw, etc.,–of course meets with children's disapproval and he painfully hears the thud, thud of everyone's roll being dumped in the garbage bin. But he is unrelenting.
He will do everything he can to make the changes he wants because 1) he cares about every child; 2) he could care less that the sullen and then cranky lunch crew think it takes longer to peel and cook potatoes rather than dump a sack of processed potato "pearls" into some boiling water and have mashed potatoes in two minutes; 3) he is simply and quintessentially Jamie Oliver. ABC wants desperately for this show to succeed, but not, I think, for the altruistic reason of making this nation's kids healthier, one city at a time. Rather, the show seems to revel in pitting Oliver, who comes off as preachy sometimes, with some evil force, whether it be the head cook Alice Gue, or the bureaucracy of the USDA, which stipulates that students somehow eat this badly in the first place.
We're anxious for the day when Oliver either breaks down in tears (again!) or finally gets taken back to the shed and gets punched in the face for being the annoying interloper. Here are five reasons why we think this scenario could take place in the next few weeks:
1.    Jamie Oliver is English
It's bad enough that Oliver can barely be understood with his lispy and strangely Cockney accent by the unscrubbed masses in pow-dunk West Virginia, but as far as I know, I don't think his kind is all that welcome in these them parts anyways. I think there was a revolution of another kind over two hundred years ago which was fought not far from these Blue Ridge mountains, and last we checked, the British were tossed out. Thus Oliver gets a pretty rude but thoroughly American welcome when he goes on a local radio station to announce his visit. "Who do you think you are?!", is the response of the blowhard host, but when you think about it and step back a little bit, let's agree that he may be on to something. A strange man coming in with a camera crew and publicity to exploit, telling adults that they are "killing" their children (Oliver's words), and doing it in a British accent. Come on! Wouldn't you at least get angry?
2.    Oliver is way too sarcastic
Oliver, in his impish grin and blond curls, seems to have to qualms in saying pretty direct things that are provocative. Even his asides are stinging: the "lovelys!" he tosses off when the first grader yells out "egg salad" when trying to identify an "egg….plant". His confrontations seem to be intellectual clashes for him, and he genuinely seems put out by what he regards as almost inhuman behavior. Kids only know what spoons are? Why haven't they been taught how to use a knife and fork, like they back home in England? His mouth does get him into trouble because he pushes the complaints and attacks too hard and does not know when to filter his remarks. Thus twice he appears on the front page of the morning papers being, according to him, quoted out of context, and in the process insulting many people in the community.
3.    Oliver forgets that Americans are sedentary creatures of habit
It's not just that the grim lunch ladies in the school kitchen don't want to whip up a pasta primavera with roasted vegetables, or attempt a tropical fresh fruit salad, mind you. But they correctly point out that there is simply no time for this, and they aren't working enough hours to be doing this.
Americans fall into habits, rightly or wrongly, because they are time efficient and not necessarily designed to provide the most optimal solution –in this case, a perfectly healthy made entirely from scratch. Peel potatoes and cook them, then mash them and season them with fresh herbs? The ladies
with
their hair
nets mock Oliver.The ladies with their hair nets mock Oliver. They don't mean to really, but really, what they are doing isn't entirely their fault. It's their job to churn out 450 meals for hungry kids each and every day and there is no incentive for them to suddenly subvert the system and create more work for themselves, especially when the kids won't be all that grateful anyways. Similarly, when Oliver visits the horror scene at the Edwards family and discovers the fat-a-thon processed foods jamboree that the obese wife feeds her acne-filled, also-obese teenage sons, this is a situation where it's just been easier for the Mom, who struggles to basically raise the kids by herself when Dad is out doing his truck driving, on a probably meager salary.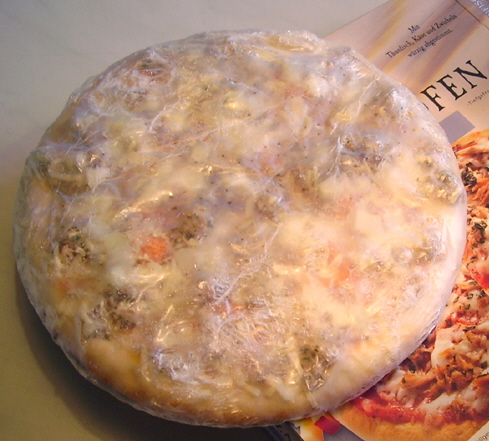 Those fifty-cent frozen pizzas in the freezer that Oliver scoffs at aren't just lunch or dinner; they are convenience and a small part she is providing her sons. Oliver forgets this, and he thinks that just by giving her a few pages of recipes on a piece of paper that the family is going to make radical changes in their diet. Sure, the scene where Oliver and Mrs. Edwards toss all their food, pizzas, pastries, donuts, fries, and all on the kitchen table to show what they put in their bodies all week is numbingly depressing, but this is a reality for many families who simply don't know better. I know this is the point, but Oliver too cavalierly indicts the family for bringing harm and shortening the lives of the children as if this were a willful act. Really, who decides that a burial of a deep fryer in the backyard, complete with holding hands and prayer (this being the Bible Belt), makes for an interesting stunt?
4.    Oliver cares way too much.
Oliver bulldozes everywhere he goes, and in his aside comments on camera, makes some pretty strong statements about the very people he is working with —how inhuman they are, how ghastly they organize themselves, how wasteful the kids are, etc. But there are also moments of mawkishness and queasy sentimentality in which the camera seems to imply that Oliver is a blubberingly caring guy, a little over the top, but nonetheless sincere.
Let's hope so, because the first two episodes also give the impression that Oliver plainly doesn't know how to deliver his message properly, as when he gets misquoted twice by the press, or cannot properly articulate his mission and objectives to the DJ on the radio talk show. Intellectualism this is not; it's all about the hook and getting to his (and your) heart strings. But let's also hope that Oliver's apparent devotion to 11-year old Justin Edwards, victim to the fast food bonanza at the Edwards home is something that the show can follow, and that Oliver does not lose touch with this genuinely moving story arc.
Justin, heavy set, glum because he is bullied at school about his weight, wants to change his eating habits and live a more active life. He also says he wants to learn to cook better and Oliver seems to want to take him under his belt. We will follow his story, hopefully, as we have done so already, with the potentially touchy visit to the doctor's office to administer an A1C test (for diabetes) to Justin to see whether his habits have already marked him for life. (The test came back negative.) This wasn't the direction I wanted to see their relationship take in this episode; all the producers wanted was the poignancy of having the parents in there, listening to  a doctor give them a scare. Let's hope that Oliver will work with the boy at a level he understands and can respond to: personal counseling, active support, motivation to start an exercise program and better eating habits that will keep him going for life, and not just for the remainder of the shooting schedule.
5.    Oliver decides perhaps to take his road show elsewhere in America
Oliver asserts in the second episode that his work in Huntington, WV is a start and that this is a revolution that will one day move forward to other cities across America. On Oprah, Oliver applauded First Lady Michelle Obama's "Let's Get Started" anti-children obesity campaign because it sets a national example to make this a public health issue. Of course we don't disagree with this. But I don't know if this kind of approach of taking control of a school district's student menu one city at a time will yield the kinds of results that a more educational approach would. For one thing, he isn't the authority to do this, something he rightly admits since he is neither a scientist, a doctor, or nutrition expert.
He is a parent, yes, and, as he suggests, a human being, but these kinds of appeals really don't shock Americans out of their complacency. There has to be an educational revolution, true, but it doesn't mean that it will be have to be championed by a semi-famous Brit whose only expertise is that he writes organic, fresh-from-the-garden cookbooks and once was People's Sexiest Males because of his tousled blond hair. Finally, the district in Huntington may have been relatively easy to work with, given the extraordinary access given to him to literally commandeer the kitchen for a week and serve kids directly.
But I wonder if all the districts would be so accommodating or discerning in handing over something so precious: their ability to actually affect the lives of children. On this score, Oliver wants to make these lives better, but it has to take someone and something far more creative, far more constructive, and a little less bull-in-a-china shop in its execution.
Related Posts