Leave it to the Chinese to provide the world with a graphic, yet hilarious animated blow-by-blow account of whatever it is that took place near Tiger Woods' mansion in Windermere, FLA early last Friday morning.
The Chinese, you say? In case this even bears repeating, Tiger Woods is probably the globe's most well-known athlete, and possibly its wealthiest. And the Cadillac Escalade crash that was heard around the world only underscores the enormous global reach that this suddenly notorious golf titan has.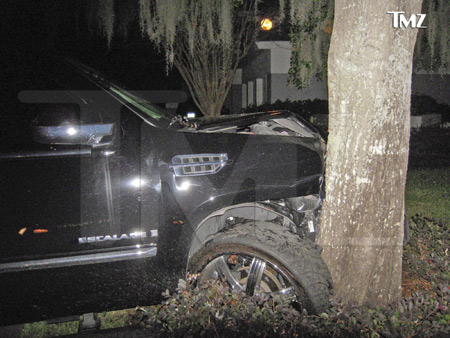 I was in Paris last Friday, in fact, when CNN International's Richard Quest abruptly delivered the "breaking news" that Woods had been in a "serious car accident", and was desperately seeking additional information to give to its viewers. The next day, even in France, Tiger's pictures were all over the papers.
In any case, this much we now know, according to Sgt. Kim Montes of the Florida Highway Patrol: Tiger, running out of his house, crashed his new Escalade into a fire hydrant and a neighbor's tree, causing around $3200 in property damage, and earned a careless driving fine of $164 and 4 points on his Florida driving record. This is the easy stuff. Tiger posted the bail: a tiny drop in the bucket, as we say.
Tiger has not said much in public about the other damage that's been caused, or what it is that compelled his wife Ellin to supposedly go apeshit, running out of the house with a golf club to either a) beat his ass with it or b) rescue him from his expensive SUV. (Hey, don't they have On-Star?) Or, as the gossip magazines and TMZ have been furiously asking since last week, why? Why was Tiger running out of his own house at 2 in the morning? Why would Ellin be storming out of their house at that hour with a golf club?
This morning, things got a little more dramatic when Tiger posted this on his website:
I have let my family down and I regret those transgressions with all of my heart. I have not been true to my values and the behavior my family deserves. I am not without faults and I am far short of perfect. I am dealing with my behavior and personal failings behind closed doors with my family. Those feelings should be shared by us alone.

Although I am a well-known person and have made my career as a professional athlete, I have been dismayed to realize the full extent of what tabloid scrutiny really means. For the last week, my family and I have been hounded to expose intimate details of our personal lives. The stories in particular that physical violence played any role in the car accident were utterly false and malicious. Elin has always done more to support our family and shown more grace than anyone could possibly expect.

But no matter how intense curiosity about public figures can be, there is an important and deep principle at stake which is the right to some simple, human measure of privacy. I realize there are some who don't share my view on that. But for me, the virtue of privacy is one that must be protected in matters that are intimate and within one's own family. Personal sins should not require press releases and problems within a family shouldn't have to mean public confessions.

Whatever regrets I have about letting my family down have been shared with and felt by us alone. I have given this a lot of reflection and thought and I believe that there is a point at which I must stick to that principle even though it's difficult.
I will strive to be a better person and the husband and father that my family deserves. For all of those who have supported me over the years, I offer my profound apology.
What transgressions? How did he let his family down? Oh, you mean the text messages that he allegedly sent to yet another woman who has come of out of the woodwork, and not the one that the National Enquirer mentioned last week, the one who already hired Gloria Allred as her attorney, the same one who claimed she had not had an affair with Tiger? Let's see –that one was Rachel Uchitel.
This new one's named Jaimie Grubbs, a 24-year old cocktail waitress at the Stone Rose Lounge in West Hollywood, who tells US Weekly that she has about 300 sexy texts that Tiger sent her while they were having an affair. She does claim, while also being on VH-1's "Tool Academy" reality show", that she has been with Tiger since 2007 and that they "did it" about 20 times. Our favorite sexy message, which of course her publicist released, is the one that says: "I will wear you out. When's the last time you got *****d?". And then there was the tender: "Send me something very naughty. Go to the bathroom and take (a picture)".
Besides shopping her story to the tabloids, Grubbs has also been bragging to co-workers about other details about her time with Tiger. She also released a voicemail from Tiger himself, apparently left before that angry phone call from the wife. Listen to how Stanford-educated (OK, maybe not so smart because he hasn't finished yet) Tiger Woods tries to ask his mistress to please not say her name in her outgoing voicemail message, so as to throw off his probably equally-as-dim wife from any suspicions.
Listen as a scared-shitless Tiger, who does use HIS name, however, tries to deliver some simple instructions: "Hey, it's Tiger. I need you to do me a huge favor. Can you please take your name off your phone? My wife went through my phone and may be calling you. So if you can, please take your name off that. Just have it as a number on the voicemail. You got to do this for me. Huge. Quickly. Bye.
I think we all just need a cold shower now. Other "Tiger Girls" and fame-seekers seem to be emerging everyday, and TMZ is anxiously nabbing them. A new one, Kalika Moquin, a marketing manager at the Bank nightclub in Las Vegas, turned up just yesterday. Hot. So before things get really get out of control and before the Maury Povich Show dedicates a show to "Tiger Baby Mommas", let's thank the Chinese for putting together a thorough demonstration of what actually occurred that fateful Friday morning outside Tiger's house.
For those who appreciate the Sims, the CGI animation will look familiar and nifty, except we don't quite understand why the "other woman" (Rachel? Jaimie? Kalika?) looks like she is holding up a vacuum cleaner. The little funky dance that Tiger and Ellin do before she starts to swing that club at him in their living room: priceless [see vid above].
Most Popular Posts