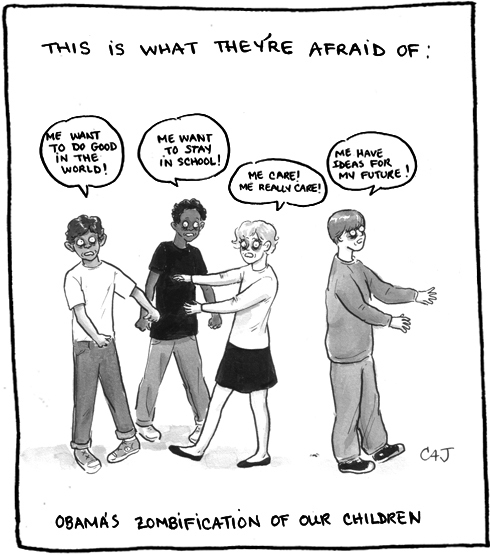 Hey, kids, I don't know what the hell your nut-job parents were all upset about. The President gave a back-to-school speech this morning at a high school in Virginia, a patriotic message about dedication and personal responsibility that was beamed to all schools in this country.
Your parents thought this speech was tantamount to some propaganda shilling for Democratic social programs like that public option in the current health care fight up on Capitol Hill. This was supposed to be the speech where the force of Mr. Obama's charisma was going to hypnotize you into becoming a free-spending and taxing Socialist, and indoctrinate you into the ways of Karl Marx.
Some of your parents got so fed up that they indignantly kept you home today to protect you from the vultures in the Oval Office that wanted to sink their non-God-fearing teeth into your impressionable minds. That's because your parents don't educate you either, much less impress upon you on the need to have an open mind.
You see, some of your parents would rather keep you isolated and not accept the fact that a diverse country like ours can produce a President like Mr. Obama, who did not always have the most comfortable of upbringings. We live in a country where today, a Latina Supreme Court justice named Sonia Sotomayor, was formally invested as the newest Justice in the highest and most prestigious court in this land. That's an astonishing achievement for someone who was called a minority but who exceeded expectations.
You see, some parents out there may feel uncomfortable about her or feel threatened somehow that a Black man is firmly in charge and taking control of some of this country's most challenging moments and making tough decisions. And that some of those parents are so determined to watch him and his administration fail. Also, I have a quick question for your foaming-at-the-mouth parents: since when is it acceptable to denigrate the office of the President and not just the person who occupies that office?
Here's some advice for you: just watch the speech. Listen up. Understand that this is a speech that is about what your same parents should say to you each and every single day as you attend your classes. Stay in school. Do your homework. Learn from mistakes and failures. Pick yourself up and try harder. Lay off the Facebook and stupid comments on MySpace because all this can come back to you later.
Cut it with the "Gossip Girl" and growing up too fast. You'll watch this and learn what it means to be motivated and personally connected to your own destiny called education –even "when you're struggling and when you're discouraged", as Mr. Obama says. Giving up is the same as giving up on your country. We have come too far –some like Mr. Obama and Mrs. Sotomayor, given their historical conditions, weren't supposed to succeed, but look at them now. You too can attain "great things".
And oh yeah, you might want to watch the speech again with your parents. And share the moment together.
Good luck to you this school year!
Related Posts