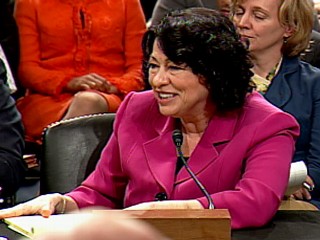 The image of Sonia Sotomayor, accompanied by her mother and her brother, taking the oath from Chief Justice John Roberts, to become our nation's 111th Supreme Court Justice was surely a thrilling, moving moment for many of this country's Latino population.
After winning Senate confirmation last week, Sotomayor was promptly sworn in at the Supreme Court (and not at the White House, in order to show independence) on Saturday morning, and it culminated several weeks of debate and sometimes angry discourse from opponents who did not care for some of Sotomayor's previous remarks that she, as a "wise Latina" somehow had a better perspective than older white males.
Many Latinos understood what she was talking about when she said this at UC Berkeley's Boalt Law School back in 2001. Like Sotomayor, they understood the strength that one's own socio-ethnic background brings and the insights that it confers. We all are products of our surroundings –our parents' nurturing and example, their sacrifice, our education, etc.  Samuel Alito, during his confirmation hearings, said as much as well, citing the hard work that his Italian immigrant forefathers instilled in him.
But it seems that when this was applied to Sotomayor, the so-called firestorm that ensued stemmed not from just a response to a churlish remark. Sotomayor was simply in the wrong ethnic group –and she was a woman, to boot. Apparently in this country, if you are from a "good" ethnic group like the Italians and Irish who came here and quickly assimilated, setting the model, so to speak, that came to define establishment figures such as the Kennedy family and current justices Alito and Antonin Scalia.
Sotomayor was clearly different. She rankled the very establishment because they called her out on a remark that, for all intents and purposes, was not disrespectful in the least. She did not mean to suggest that she was necessarily better or smarter than other white folks. She was simply saying that she represented something different, and therefore "wiser" because she may have lived the experiences that made her interpret the law in a more authentic way. Does this really need to be spelled out? Does living in public housing allow you to understand first-hand what it's like to see inequality? Why wouldn't it? Does being a member of a minority group confer an insight that allows you to experience discrimination? Why isn't this clear? Finally, why wouldn't being a woman allow you to see similar inequities in the law that would perhaps compel you to redress some of society's wrongs?
This sure has been a summer when it has sucked to be a minority. The fact that President Obama made such a historic choice, his first for his nascent Presidency –itself historic for obvious reasons—was quickly dampened when various professional interest groups essentially criticized Sotomayor for being at the wrong place at the wrong time. Her path to an already prestigious post, a judge on the Second Circuit Court of Appeals in New York, didn't matter to some on the Right. She was too shrewd or crafty; something had to be wrong with her precisely because she was so different.
Let's see: graduated at the top of her class at Princeton. Check. Excelled at Yale Law School. All right. Check. Thus she fulfilled what those who look at meritocracy look for. It's not as if she was a third-rate student at a questionable school. She has blazed trails all through her education. But even this was suspect.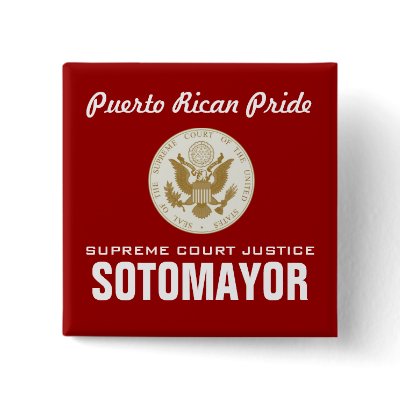 Oh yeah, the affirmative action card. The same card used against minorities whenever they get too uppity or when there needs to be some other excuse to explain someone's success. Those in the majority never get this scrutiny because they are so used to being in positions of power. They just can't ever imagine one of their own being mediocre, but they're the first ones to throw rocks at those in the society who have been historically disadvantaged.
This is the climate that we faced in America 2009, even with the strides achieved with Barack Obama's election as President. Make no mistake: it's not as if racism has gone away. In fact, this atmosphere has allowed people to be more open –and therefore less inhibited—about issues of race. Not necessarily for the better, mind you. Sotomayor's ascension to the nation's highest court did not come without nasty bruises. She had to be reminded that she didn't belong in this most hallowed of American institutions. She had to be dressed down by a group of elderly white male Senators, who professed "disappointment" at her "troubling remarks" about being a "wise Latina". This was, ironically, the same Senate Judiciary Committee that gave Anita Hill a hard time in 1991 when she testified against the nomination of Clarence Thomas.
These Senators, just as old and unwise, had the audacity to school Sotomayor on notions of equality and justice, and of the dangers of enacting "policy", not law. She was a supposed hothead whom they believed would act in deranged, unnatural ways on the basis of her 2001 remark. One Senator, Jeff Sessions of Alabama, had the nerve to lecture Sotomayor about her views when it was Sessions. Interestingly, in an investigation involving the Ku Klux Klan, he had called them "OK" until he found out they were "pot smokers". He also complained about the NAACP.
The so-called openness and discussions about race also helped fuel the controversy about Harvard Professor Henry Louis Gates' arrest in his own home this summer. While Sotomayor was being reminded she was not White or privileged, Skip Gates was cruelly pegged as someone who shouldn't be owning a home in Cambridge, MA, or, worse, couldn't be an eminent Harvard Professor and Chair of the African American Studies department. It is now known that Gates, having just returned from a long trip to China, was jet lagged and tired, and then realized he didn't have his own house key. The police was called in and the rest is familiar: spot the Black man because there happens to also be a Black man on suspicion for any host of crimes in the neighborhood, and arrest him because said Black man looks like he's trying to break into this house near Harvard Yard. When Black man gets angry (remember: "uppity") he needs to be put down and what is this nonsense about him being a Harvard Professor? Did he just say something about my Mama?
The truth is, Black men like Skip Gates get racially profiled and arrested every day in America. He just happened to be a well-known one, and a friend of Obama's. On one level, Gates' behavior was expected. Who wouldn't be angry when confronted in one's own home? On another level, and perhaps unfairly, he was another Angry Black Man, full of rage and spite, yet this was coming from a man who had built a career around exploring the African American culture. He knew what it meant to be profiled by authority figures. He has been Black all his life, and thus he knew
firsthand
what racism meanthe knew firsthand what racism meant and how every so often, it reared its ugly head. It's as if all that education, all those awards he had won, the documentaries he had made, the contributions to his field, vanished because he was reduced to being seen as a criminal by a Cambridge police officer who may or may not have been just doing his job.
Sotomayor did not fight back; she didn't have to. Or at least she did not engage in the petty discussions that the Senators expected her to get into. She explained her "wise Latina" comment away by saying that she did not mean to single herself out necessarily, or think of herself as special. She affirmed the rule of law and praised the Constitution as the most powerful legal document that governs all of us, and pledged to defend it. She did everything with exceptional grace and class. She did not live up to the fears that she would become feisty, flippant or excessively female (i.e., too emotional). She delivered all her points crisply and confidently, never wavering and never stooping to the depths where some Senators wanted her to engage.
In the end, she proved impressive on merit alone, and had the ability to convince the committee and the Senate at large that she indeed had the experience and poise that the Court –and our country–needed.

Related Posts