A Personal Foul
Keyshawn Johnson is not an interior designer. But that's what the producers of his new eponymously named reality series want you to believe.

In this by-the-numbers show, "Keyshawn Johnson: Tackling Design", it's unclear what the focus really is. Is it a how-to show on turning a drab home interior into something vibrant and fresh, complete with actual instructions or at least a few minutes discussing how to use flocked wallpaper or how to use primer to paint walls?
On that score, the show fails miserably and no serious aficionado of HGTV would ever take this half-hour show seriously. At least on "Color Splash", the fey host with the sleeveless tees shows an admirable sense of aesthetics and an overall vision of how to really transform, say, a family room.
Design, and all the elements needed to execute it, are front and center. Not so "Tackling Design". It just so happens that this hulking 6'4" 211 lb (according to his stats) former NFL star wide receiver seems to have an interest in re-doing other people's homes. His greater interest, is in thinking he has a "team" of helpers that will allow him to impose his own sense of design and style to each week's set of hapless home dwellers.
And impose he does. The larger-than-life Johnson, the former showboater and #1 NFL draft pick from USC, seems to think he is still on the football field with all the idioms about "plays" and "teamwork" that he tosses in to each discussion. He too has a team, and for the life of me, it's unclear what they do, except for being "assistants" and "decorators". It would be nice to see some proof that Johnson and Company are actually certified and not just sycophants who are there to make the boss look good, or at least not get in his face.
If the idea of an 11-year former NFL and Super Bowl star hosting a design series isn't enough to test your cognitive dissonance, then the opening image of Johnson in the pilot, stuffed inside a Toyota Prius certainly might be. Probably not content to propagate the TV stereotype of livin large like a balla in a tricked-out Escalade or Range Rover, Johnson ambly pulls up an old teammate Kurtis's home and peels himself out of the car. Kurtis is now married to Dawn and they have three girls.
The dilemma is this: the couple want to remodel their garage and make it a place for Kurtis to relax and watch his sports –a place all his own, as it were, with plasma (which they don't have yet) and USC memorabilia on the walls. But Dawn also wants to carve out a place in there to do her scrapbooking and crafts.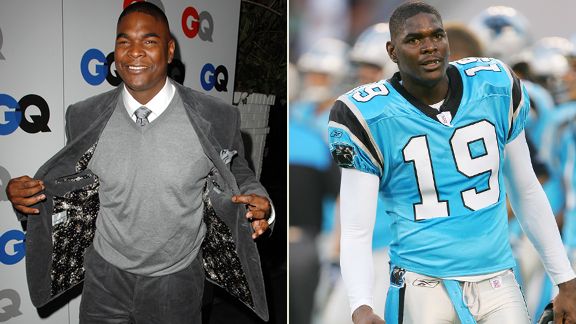 Johnson, who clearly knows a thing or two about having a TV game room with all the sports stuff, understands the predicament and feels he knows exactly how he would rearrange the room. But first, he says, we need to get rid of this black leather sofa, the one with the built-in cup holders that essentially divides the room in half and, in his mind, is a total eyesore. He repeats this to his staff back at the office, in a hasty meeting that clearly he controls but which has no real specifics about what the changes will be. The next thing you see is Johnson and one of his assistants looking for sofas, and all the while Johnson imposes his opinions ("too stiff", "not soft enough") as if they even make any sense. This isn't
instructional;
it's just
blathering on by
someone who
thinks he knows better.This isn't instructional; it's just blathering on by someone who thinks he knows better. Hell, I'd agree to get rid of the leather sofa too (something, by the way, that he finds tacky) if the producers are going to get me a brand spanking new one.
I think we're supposed to find humor or drama (not sure which) when Johnson's team rolls out the new wooden floors to Dawn and Kurtis, only to find out that Dawn isn't too keen on it. But this being all things Keyshawn, we're subjected to some eye-rolling and fussin' on his part, as if there is really no compromise. Johnson will eventually get his way. At least the show also has the sense to have Johnson bring by fabric swatches and panel samples to the owners. It's a nice touch if the goal is to make sure that he has chosen the right wallpaper, the right tone or shade of paint for the job in question. But clearly that's not what happens. Johnson  pouts, he chides, and almost lectures only to make sure that his choices are validated.
And that's the difference between this show and the other home makeover shows (even the maudlin crying-fest of ABC's Extreme Makeover): the other shows do a reveal that's been preceded by step-by-step explanations of what is being done and the owners are always amazed by the transformation. Whatever consultation is done, it's done off-camera because, well, that just isn't interesting. In trying to place Johnson front and center of a "team", "Tackling Design" wants to showcase the fact that not only does Johnson know best –he is going to come down hard on you and make you believe.
Take the poor woman in the second episode in the LA hillside home. She wants to recreate her living room into an "Old Hollywood" style. A fussy pop-up screen informs us that this style might mean lacquered walls and wall mirrors, as if that even makes sense. But there's one problem and Johnson can't help noticing: there is a honkin ugly ceiling fan that is driving him crazy. This will have to go. He says.
I tend to agree, but I just don't like the idea of them anywhere, but that's just my two-cent-worth chime-in from the peanut gallery. Johnson does everything he can to remove it, or build around it. And in the end, he must come to the realization that he can't always get his way. The final reveal shows him lamely telling the owner that he was able to see that the offending fan actually fit well with the "Old Hollywood" look –and it stayed.
A Fly on the Wall
I would love to have been at the pitch meeting at A&E when this show was proposed last year. The last thing I remember with Johnson was when he was on ESPN calling football games and then the infamous moment when rival NFL star Warren Sapp called him a "bitch" on national TV. It was, specifically, Inside the NFL on Showtime when during a segment called "Ask Warren Anything", the none-too-bright Sapp was asked in November 2007 what he thought about the upcoming interior design show featuring Johnson. Sapp responded in his own call-em-like-you-see-'em fashion: "Me, watch Keyshawn on an interior decorating show? Keyshawn, I knew you were a bitch. Thanks for making it all clear".
So maybe that's it. We're supposed to think that these tough NFL guys couldn't possibly be doing all this meticulous Nate Berkus/Martha Stewart stuff, providing advice to harried homeowners. But we now know that this is not going on either. Johnson is too self-satisfied to render anything constructive beyond his fussy attitude and supposed aesthetic ideas. "I've stayed in some of the best hotels in the world. I read House & Garden and Casa Vogue," said Johnson to the LA Times in 2007, adding that he's a fan of Fendi's and Armani Casa's home collections. "I spend hours at Hennessy + Ingalls in Santa Monica looking at architecture books like some weirdo."
Whatever vision he has, it isn't coming through here and we'll have to see whether he can express this more meaningfully without having to pander to his ego to get his point across. Terrell Owens he isn't, and that's a good thing. But though the image of him tooling around in his tiny Prius still amuses, he does sport some awesome John Varvatos-designed Converse sneaks.
That, I admit, is a small aesthetic of his own personal design.
Related Posts