Uber-Twit Ashton Kutcher, occasionally outraged global citizen, took to sending a Tweet yesterday to all 2 million-plus other Twits that follow his every move and utterance. He is apparently livid at the brutal prison sentence handed down on Sunday to American journalists Laura Ling and Euna Lee by the North Korean government. Ling and Lee, who both work for Current TV, based in San Francisco, were captured and arrested on March 17 for, in North Korea's view, crossing illegally into its territory.
Both women were in China reporting on the trafficking of North Korean women into China. They were tried in Pyongyang last week for their crime and were given the maximum sentence of 12 years hard labor. That's a virtual death sentence, say some who have managed to escape these gulag-like conditions. It's just about the worst possible outcome for Lee, 36 and Ling, 32.
Back to Ashton. Not content with his own busy life with cougar-wife-hanger-on Demi, or doing family things with kids' Dad Bruce Willis tagging along, like stepdaughter Scout's high school graduation the other day, Ashton needed to vent his displeasure about the prison sentence in North Korea. And he needed to make this known to the world. He is, after all, probably the most famous Twitterer (or Tweeter?), having surpassed CNN, Ellen DeGeneres, and even formerly clueless Oprah to have so many followers.
Here is what the experienced foreign policy pundit wrote:
This should be a national crisis. We have to demand that something be done.  This is our country, it is our military. I say it is special ops time. If we can save that Captain from pirates we can save these journalist. We should find out what the largest social network site in china is and run a campaign to encourage the people there 2 help. Bottom line, China needs to step up!
Ah! So that's it! Ashton has it all figured out. He the Kabbalah follower, who would otherwise preach global peace and understanding, would otherwise send in a Commando unit that would swoop into Pyongyang, take out the evil Korean guards, and drop a copter in and save the poor women. Special Ops? Who is he kidding? We invade a country and potentially launch a war with a rotten regime which a) we have no diplomatic relations with and 2) has launched several short-range nuclear missiles –poorly, by the way–just to try them out as early as last week! That's some real global thinking there, Ashton. We knew you had it in ya.
And what's with the nifty comparison to the ship captain we rescued from a ship off the coast of Somalia that was overtaken by pirates? Let's see –a single ship and a flotilla of ships protecting this one operation that, by the way, killed two others in the process, versus what would be seen as potentially be regarded by the nutcases in Pyongyang as a full invasion of their country. However batty we may think Kim-Jong Il is, this is a paranoid and desperate regime that has created a cult-like and fully-militarized police state. This isn't a place where we as a nation simply fire a cruise missile and roll a tank in for some vigilante-style attack.
Has Ashton seen the elaborate stadium celebrations in the North Korean capital on TV between breaks of "Girls Gone Wild"?  Those scary crowds, numbering in the hundreds of thousands, devoted to the protection of their nation and to Kim and his revered late father, Kim Il Sung? Maybe some of us did back late in the Clinton Administration when, in an attempt to revive the "Sunshine Policy" of reuniting North and South Korea, then-Secretary of State Madeleine Albright was all grins sitting there in the audience and pointing at all the rockets with Kim himself. Fun times!
Sure, Ashton, let's also try to round up all the Twitterers in China and get them to relay their feelings of moral disgust and outrage and have all that communication waft its way across the borders to the social network users in North Korea and then……  Wait a minute! Who the hell has a computer in North Korea? This is a country where the capital only has one streetlight in order to save electricity. Where famine and hunger are rampant, where very few people don't have the normal amenities of life like a TV or computer, and don't have all the electronic gizmos that Ashton thinks everyone should have.
And why would the people in China try to encourage its own semi-repressive government to "do something"? When has that happened in recent years? Did you see when Beijing police wouldn't even allow anyone –a tourist or journalist–take pictures or footage of Tienanmen Square last week, during the 20-year anniversary of that famed moral outrage put down? By a tank too! The Chinese and the North Koreans, they know this works all the time. It is
laughable
to think
that citizen groups
will somehow
rise in ChinaIt is laughable to think that citizen groups will somehow rise in China, even given the relative freedoms they have today, and induce their own regime to act on behalf of a neighboring country. If China is to have any role to play in this drama –and I think they do–it's not going to come from some ersatz Yahoo! group or some tie-dyed band of soccer Moms. It will come from the very top, the Paramount Leader and head of the Communist Party, Hu Jintao and any elite-level coordination he and his team have with Kim and his cabal. Again, the Chinese and the Koreans –yeah, they think alike. This kind of elite policy coordination does leave open the possibility of diplomacy, though it is especially touchy. (The US has had to use our non-aligned friends in the Swedish foreign ministry to even have contact between us and the North Korean captors.) Finally it also explains why Al Gore's name has been mentioned as a high-level emissary who could possibly work these diplomatic channels to secure the journalists' release. The former Vice President, as partner in Current TV, is technically their boss.
It's very hard to comment on whether or not Ling and Lee should have been captured in the first place. We simply don't have reliable information about whether they were on the Chinese side or North Korean side when they were apprehended. We don't know if they deliberately went across to test what could happen, and expecting that, like most other countries, that they would swiftly and safely be deported. They couldn't be so naive as to really want to know what would happen in possibly the world's most militarized frontier. But this is not a normal country.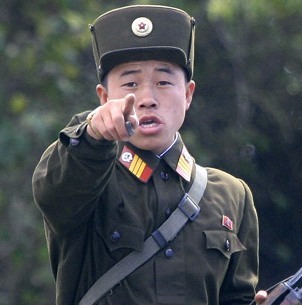 It is fiercely antagonistic to the West and to the US in particular, especially in the way it has been treated in the last 8 years. It's a brutal regime that, like it or not, is displaying the kind of sabre-rattling that rogue states show when all they want is some level of international legitimacy or their proverbial place at the table.
The sad fact is that the plight of these two women is now linked to North Korea's own desperate attempt to exist in this world, by being a bully or not. They have become shadow pawns to Kim and he is acutely aware of this by now.
Memo to Ashton:
China needing to "step up" = probably already on the mind of President Obama and Secretary of State Clinton, but thanks for the rec. Why don't you call your friend Wilmer? Bet he has a pool party in Studio City with some sweet honeys he can invite you to. Send us a Tweet when you get there.
[Via mediabistro.com]
Related Posts