As we try to figure out what "Rat Pack" means for this week's American Idol musical theme, let's step back a bit and assess what seems like a litany of lowlights and few highlights of this lackluster season. We are down to the final five contestants, one female and the rest male.
Had Allison Iraheta been ousted last week, that would have been 1) a surprise,
given her overall pluckiness; but 2) it would have left an all-male group. That wouldn't have been too interesting, since there has pretty much always been a female in the final three of AI. Even last year's David vs. David finale, despite the screaming girls (and some boys), neglects the fact that there was a decent girl, Syesha Mercado, in that hallowed group. Whether Alison can muster the hard work and originality to slay the heavyweights like Adam and Danny (or Kris –these two are going back and forth here), remains to be seen. More about her potential slaying powers later.
Is it me or is this season's AI just a tad underwhelming? There is little of the immediacy and instant vibrancy of seasons past, even compared to bland years when Blake Lewis and Jordin Sparks reached the finals, or worse, when Diana DeGarmo held her own (hard to believe this now) to Fantasia Barrino. (And that was the year that Oscar winner Jennifer Hudson got booted in the Top 7). It's just hard to really get too excited when you have a set of contestants that, apart from one or two, really do not set the stage on fire. We're not
witnessing
talent being
carved out week
by weekWe're not witnessing talent being carved out week by week like when Kelly Clarkson knocked herself out. Or when Clay Aiken would try to outsing and control his voice next to the seemingly-easy effort by Ruben Studdard. Daughtry, who, after Carrie Underwood and Clarkson, is among the most successful Idol artists ever, managed to light weekly sparks in his performances. His shocking and awkward dismissal in the Top 4 revealed something else that season: he was simply outclassing the others and thus didn't "belong" on there anymore. Let's see: if you're Daughtry, you're about to release the follow-up to their best selling-album while eventual Idol winner that season, Taylor Hicks, is about to be made up for his 10-minute performance of "Beauty School Dropout" in the San Francisco production of "Grease". Which one is more successful.
I even think that Idol producers have had to resort to gimmicks or distractions in order to cement their 30+ million viewers numbers that they deliver to Fox each week. I wonder if the current Susan Boyle sensation was meant to solidify Simon Cowell's position as a money-making guru on another kind of singing competition, or whether, like his round of interviews where he skirted the issue of whether he would return to "Idol", this was meant as an elaborate plot to breathe some much-needed life into this juggernaut. Hey, everyone! Stop your sniffling to Susan and that fey 12-year old who croons Amy Winehouse and Michael Jackson. We have this other show here in the USA, and this over-tanned idiot hosts it. Ryan Seacrest? We have themes such as "disco" and hey, it's that amazing musical talent who's this week's coach, Quentin Tarantino! Why don't you watch that? Don't forget to vote!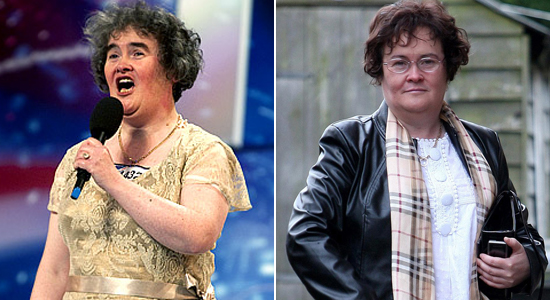 Probably the biggest gimmick of all this season has been the Kara Experiment. Kara Dioguardi was brought in amid a lot of fanfare to be the fourth judge. Speculation was that she would eventually replace an increasingly catatonic Paula, since half of America either fast forwarded their TiVos when she spoke or simply ignored her. To her credit, Kara has been a solid presence and her songwriting background has helped underscore a crucial element that haunts every contestant each week: did that song choice really fit you? She hasn't seemed unafraid to speak her mind, and she doesn't appear to be easily intimidated by either Randy or Simon. But a curious thing has happened of late. Both Paula and Kara have been in the press, trying to refute allegations that they don't like each other, which they had to expect. The twist is that instead of making Paula look weak this season by actually uttering full sentences, Kara's presence has emboldened Paula. In fact, the wagons may just be circling. This week's "OK!" magazine reports that during a recent taping, while Randy, Simon and Paula were busy during a commercial break chatting up audience member Zac Efron, Kara was basically ignored, hanging out at the craft services table. Later, she apparently got into it with an increasingly cranky Simon and that he apparently has voiced his open support for Paula, despite the way in which he treats her on the show. Perhaps Kara is too bossy for him.
The notion that Kara represented a format change also doesn't hold much water. If anything, Simon would argue (unfairly) that a fourth person has affected the timing of the program and blame the Kara Experiment for this. All of which were vividly demonstrated a few weeks back the live Tuesday show went overtime for almost 8 minutes, preventing millions like myself with TiVos to miss Adam Lambert's haunting cover of the old Tears for Fears song, "Mad World:, only this time it was done "Donnie Darko-style". The following day, Seacrest barely mentioned this event, though AI producers were forced to release the video of this on their website because so many had not been able to catch it. The following week, a new annoying gimmick was introduced and was supposed to prevent this kind of overtime programming from happening again. So Fox announced informally, via Seacrest the judges that they would be paired up. No time for superfluous chit-chats. The show felt truncated, as if we were missing someone's perspective, with only two judges chiming in for each contestant. Let's face it—we know we watch AI for Simon's sometimes withering salvos. Why couldn't Fox say instead that it runs a bloated show, and that one reason it went over was because of the umpteenth Fox network promos or commercials for Ford or AT&T?
So as we hunker down and prepare for the last month of the show, leading to the finale in late May, let's try to handicap this week's final 5 and see what their chances are of walking off with the title as the Next American Idol. We'll take each one in order.
5. MATT GIRAUD
Matt the guy with the big mole on his forehead, sometime Justin Timberlake-wannabe with the Fedora, has been on the chopping block before and it looks like he is probably next. He was "saved" two weeks ago in an Idol first –again, according to one of the changes in the rules. All four judges can choose one Idol contestant that America has called in and voted out. That happened  when Matt, after coming back and singing "for his life", was allowed to remain. He had a good week last week with "Disco Week", but it wasn't an especially memorable performance. Matt's flaw is that he doesn't project a lot of charisma, or at least isn't consistent week after week. One week he is almost flawless, breathing new life into Stevie Wonder's "Part-Time Lover" and the next he is just OK, going through the motions. There was a solid fan base for this Michigan native, but it just hasn't quite jelled and it hasn't propelled him into greatness. More importantly, there isn't a clear sense that Matt has been learning much or developing himself and sharpening his presence. This is something that, for example, really cost Lil Rounds and Anoop Desai, both voted out last week: we never knew who each of them were because they never developed an individual sense of style. This is crucial if you're going to be at the very top and then have the confidence to make whatever queasy Diane Warren song or Clive Davis production they throw at you shine. It's called really putting yourself out there, and I'm afraid that Matt is losing his steam.
4. DANNY GOKEY
I'm gonna go out on a limb here and say that Danny's star is also falling. Once of the top two singers and showing a lot of polish in his early performances, the slightly raspy-voiced singer with the cool eyeglass frames, has been resting on some comfortable laurels of late. There was really no excuse for his phoned-in-from-home take on Earth, Wind and Fire's "September" last week. The song did him no favors, and as Randy Jackson rightly asserted, it isn't a song for vocalists. All Danny did was chant "Party on" in his performance, and I wonder whether Danny simply thinks his likability and smiling fist-pumping is going to land him squarely in the final two. It shouldn't. He has some natural talents that he has to shape and control. For that matter, it's hard to figure out what kind of singer he'd really like to be. He can do the faster songs well, but they become harder to watch because he isn't especially nimble to watch. (He still hasn't learned how to dance.) If his forte is ballads, then he should work at that and become more authentic in his phrasing. Look what it's done to Adam, for one thing. Danny needs more focus and he should keep his spectacles focused on the prize. To do this, he needs to stop just coasting.
3. ALLISON IRAHETA
I so wanted to dislike Allison's take on Donna Summer's classic "Hot Stuff" last week, but I watched it again about three times and realized that my initial reaction was hasty. And that, I think, is what a lot of people do to Allison, who just turned 17 yesterday. I had felt that her interpretation was all over the place, from torchy to rapid, then the phrasing didn't seem right somehow. But in fact, the arrangement eclipsed the song itself, and to her credit, she managed to breathe some life into it. The strength of Allison's performances is that she takes some getting used to, or maybe that's a fault for most. But the payoff is that she is blessed with a remarkable voice that, over the last few weeks, she has learned to modulate more and give her performances some presence and much-needed edge. It's hard to believe she's so young and it felt almost as if her songs were too "old" for her. That's how I felt when she sang Bonnie Raitt's "I Can't Make You Love Me" –and then thought of Bonnie Raitt, or even George Michael, or the others who have covered this song. How could a then-16-year old girl do this song? Allison may be this year's real discovery, apart from Adam, in that she seems to be strong enough to project an image that belies her age. She can handle rock, she can handle the ballads. She also doesn't seem to afraid to take on challenges. Let's see if she can figure out what "Rat Pack Week" means.
2. KRIS ALLEN
Kris is this year's "safe", non-edgy singer, the one that makes us comfortable because he is so non-threatening. He is the MOR singer, the one with the troubadour guitar and charming smile. He is Jason Castro with real talent and minus the freaky dreadlocks. He is almost David Archuleta but with none of his aw-shucks goofy giggles and somewhat asexual manner. He is the crowd favorite Forrest Gump to Adam's menacing Pulp Fiction. But let's not diminish his talent, which he truly does have, beneath his pretty-boy face, smile, and Christian faith he shares with his new wife. He can do a very impressive take on another Donna Summer song, the 1983 non-disco song/feminist anthem "She Works Hard for the Money". His completely reworked arrangement with the guitars was so unexpected and reminded me of what David Cook did last year almost every week around this time of year, tossing out Mariah Carey and Michael Jackson songs and transforming them in rather original ways. Kris clearly has a fan base of traditional, I-like-my-music-safe-and-wholesome and he plays that kind of singer role flawlessly. He has come out of his shell a bit because he seemed to be quiet and moodier at the start. Clearly he is enjoying the spotlight, and he has been able to use this to his advantage and charm –which, by the way, never fails at this stage of the competition. The one drawback to Kris is that he has pretty much already defined himself –the poppy, guitar-y-, Jason Mraz-ish, likable chap that wants to be liked and seems comfortable in his own skin. There is little chance of Kris truly going out there and doing something beyond what his image-makers have set out for him.
1. ADAM LAMBERT
Surprised? Come on. Adam has so dominated the competition this year that it seemed an almost foregone conclusion weeks ago that he would be in the final two. He is the non-traditional one, the one who eschews convention, the one with the eyeliner (wait, David Cook did this last year), the one with the gumption to take songs and make virtual Broadway productions out of them. Or at least emotional, haunting renditions. True, I felt that last week's lazy, sinewy take on the Yvonne Elliman song "If I Can't Have You" probably didn't hurt him too much, but I wonder what he had planned to do with the song originally. I actually feel he was probably reined in and told to keep it a little under control. And the result was still quite good since we have grown used to the power of his voice to take songs and breathe new life into them. I also like how Adam seems to really feel the moment of being on stage, as if he is a natural at this. It's a little stagey, a little actor/actress-y in their overall style. Adam's real danger is if he becomes too aware of his edginess and projects a bit too much theatricality; he will become this year's Clay Aiken if that happens. We get that you can do the flashy falsetto, and it appears almost every week now. We get that you can inject a lot of heart into ballads. Keep things under control as you define yourself forcefully. Oh yeah, and smile a bit more. This is your competition to lose.
Related Posts