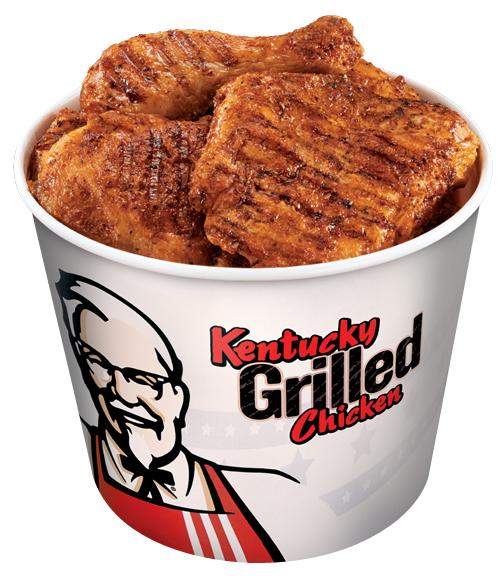 Yeah, I know what you're thinking. What "new grilled chicken"? You haven't heard? You haven't seen the ads on TV? Bowing to pressure from the food police, if that's your cynical view, or simply finding a way to catch up with the 21st century, Colonel Sanders has decided that grilled is the big thing these days. And isn't it? I mean, this whole country seems to get fat just by thinking about food and stuffing itself with reruns of Paula Deen and "Diners, Drive-ins and Dives, starring that spiky haired lardbutt, Guy Fieri, on the Food Network all day long. Something's gotta give. Simple as that.
This is about taking something as American as Kentucky Fried Chicken, and gutting the one element that used to make us salivate just thinking about —the "fried" part, and replacing it with grill marks. But it's "KFC" nowadays, so maybe we've forgotten that this thing even used to be fried once. (They still sell those salty grease pieces, for those unable to make the slightly-more-healthful plunge.)
It's about time. KFC was becoming something of an anachronism in a country that, especially in this economy, was becoming more mindful of its diet and overall value of everyday food. The grilled chicken idea came to KFC a few years back, in response to customer demands for a product that was more nutritious. Last year, it tested the grilled chicken menu in some Midwest states, including its home in Kentucky. The response was so favorable that now all stores across the country are now featuring this new dish. What is it exactly? It's still chicken pieces, of course, except not covered with greasy fried batter enveloping the thigh or chicken wing. The process involves placing the chicken pieces (with bones) on top of a grill, but not removing the skin. What's it like? Well, I will get to the results momentarily.
First, wasn't it about time? Have you been to KFC lately? Gave it up in favor of Popeye's, or Church's?  Can't blame ya. My local KFC seemed to be the very same place it has been for the past 20 years. Nothing has changed. There's been the occasional modification or two, but there have also been missteps. What is up with "Popcorn Chicken"? Who eats this? Do people shake it and serve it on top of their already gut-busting buttered popcorn at the movie theatre. Similarly, who exactly gave the go-ahead to the monstrosity that gave us the fried chicken/mashed potatoes/gravy/AND cheese bowl that is on their menu?
I wanted to try this new grilled chicken out, so yesterday I went in to my local KFC and ordered the current 2-piece (breast and wing) special. It came with the normal cole slaw (just ok), biscuit, and mashed potatoes and gravy (decent, hasn't changed in 30 years). The two pieces seemed a little puny, compared to the traditional fried pieces. Then I realized just how much breading (and calories) affects the size of the fried piece. While this is now a grilled piece, this isn't a skinless grilled piece. Therefore if you really want a healthy experience, you still need to take off that skin before you eat it. As far as taste, it was decent. The spices are probably not the "11 secret spices" of the fried stuff, but it is seasoned somehow. Honestly, it doesn't hold a candle to the grilled chicken to El Pollo Loco, which is a popular Mexican-American-owned chain in the Southwest. (Also, no killer guacamole salsa or steamed tortillas.) But for the price and for the mere nod to more healthful eating in an establishment that now sells a "jug" of Pepsi for $1.89 (that's 64 ounces of soda on ice), it's not bad at all. Oh, and there really aren't any grilled marks that you see on the commercials with the new CEO of KFC –the Aussie dude who sounds like Crocodile Dundee.
And the calories?
As for the calorie count, here is the comparison: with just 70 to 180 calories and  to 9 grams of fat, depending on the piece, the new grilled chicken piece is definitely better for you. If you were still emotionally attached to the extra crispy option, then you're looking at between 150 and 490 calories and from 10 to 31 grams of fat. End of story.
Nutrition Facts
Serving Size: 1
---

Amount per Serving

---

Calories

130
Calories from Fat 80

---

% Daily Value *
Total Fat

9g

14%
Saturated Fat  2.5g
12%
Trans Fat  0g

Cholesterol

85mg
28%

Sodium

330mg
14%

Total Carbohydrate

0g
0%
Dietary Fiber  0g
0%
Sugars  0g

Protein

12g
24%

---
| | |
| --- | --- |
| Vitamin A | 2% |
| Vitamin C | 0% |
| Calcium | 2% |
| Iron | 4% |
---
Est. Percent of Calories from:

Fat 62.3%     Carbs 0.0%
Protein 36.9%
According to KFC, today is "UnFry-Day". So to celebrate the launching of this new menu item, all day it is giving away one piece of their new grilled chicken to everyone who comes in. That's it. Just come in. Point at your open mouth. They'll toss it in. Simple. As long as you have your mouth open, you'll probably be staring at the menu so you can order something else. At some KFCs, like my local one, they pair up with sister chain Pizza Hut, or sometimes even a Taco Bell. Give healthy eating a try, then wash it all down with a mini-pizza or cheesy breads, or maybe one of the KFC chocolate pudding desserts —also not changed in 30 years. Go on, at least you can say you had something good for you. I meant the chicken.
Update, May 6th:  Printable Coupons!
It's free chicken time again! First, the new grilled chicken giveaway at KFC on April 28. Then it was on to El Pollo Loco mere days later. Now KFC is punching back, this time taking to the Oprah Winfrey Show and oprah.com website to post another offer.
Check this out: while last time we told you to simply walk in to KFC and open to your mouth and point and they would give you ONE (just one) piece of chicken, this time KFC is asking you to print out a coupon entitling you to an entire 2-piece meal. That's TWO pieces of the new grilled chicken, TWO individual sides and a biscuit –all absolutely free. Free. As in free. Gratis. You don't pay a cent.
But you have to go to the KFC website and print out a color coupon TODAY by 11:59 pm CDT. Get to the website now and send it to your printer. One coupon per person, no photocopies allowed.
We don't know how Oprah got involved except that she probably wouldn't say no to KFC, and vice versa. Didn't she just have Kirstie Alley the other day prattling on  about how she became fat again? Did you see her? Whoa!
And now People magazine has her on this week's cover —good God, she gained 83 pounds, apparently succumbing, she says, to Chinese food and lots of butter. And did you notice that Oprah, instead of analyzing her erratic behavior and obvious cry for help, seemed so intent on talking about her own "battles", as if she has effectively tossed in the towel and said, "OK, I will be a fat girl, it's my thyroid. Leave me alone." You would think the Oprah of before, the one that used to talk about healthier living, would have asked Kirstie something like, "Now honey, what is really missing in your life that you are replacing with your food addiction?".
OK, we're getting way off topic. Hey, the KFC deal is free. It's healthier than the fried stuff. And isn't it nice to find a free meal? Get there now!
(good until May 19th! - you MUST print these today - limit 4)
[Via www.unthinkfc.com]
Related Posts