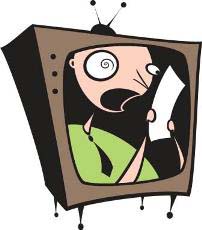 Spring 2009 TV
Spring finally arrived on Friday and you'd think the only event worth catching on TV is all the March Madness basketball on CBS. There have been some thrilling games for sure and the Sweet 16 will continue to battle it out this week and lead up to the Final Four –and huge ratings for sure—all the way into April.
Spring is also the time for networks, both mainstream and cable, to unveil some "mid-season" programming right after the hoopla of the large events like the Oscars and Grammys, which roll through town in early to mid-February. Sweeps period is still February, but given the recent writers' strike, it seems like some of the old calendar dates for TV entertainment are changing. For one thing, TV is now pretty much all season. Large-scale productions like the dull "Kings" on NBC or new sitcoms (what, I thought they were dead) like "Better off Ted" and "In the Motherhood" are starting later than what used to be called "mid-season". A couple of shows, a crime drama on NBC with Ben MacKenzie ("The OC"), called "Southland" and a sitcom with veteran Bob Saget called "Surviving Suburbia" (not a catchy title) bow on April 9 and April 6, respectively.
Yet spring is also a time when established hit shows like the CSI juggernauts, the reality shows like "Survivor" and "Dancing With the Stars", and of course, "American Idol" continue their dominance as their episodes roll all the way into late May. "Idol" so dominates programming from mid-January until late May that it potentially wins every Tuesday, Wednesday and sometimes Thursday night slots. Despite grumblings from naysayers that the show had lost, uh, 5 or 6% of its audience since last year or that the show has weaker talent this year (Go Danny Gokey!), the show still kicks ass and makes Fox and Fremantle bucketloads of cash.
What if we don't necessarily want to catch up with Simon, drunk Paula, Kara and our Dawg, Randy? I mean, they will get their audience this week. Guaranteed. 25 or so million viewers. 30 to 35 million will vote to keep in Danny, Adam and Matt and there will be more goofball awkward hosting by Seacrest. What if we take a quick look at some new shows that maybe just don't get all the flashy, fawning visits by the likes of Billy Bush from "Access Hollywood" or himbo Mario Lopez from "Extra", and well, actually exist on cable. Yeah, tumbleweed-land, far from the A-list casts and productions. Are they just as entertaining as watching 40-something Charlie Sheen walk around in shorts on "Two and a Half Men" and nab Emmy nominations? We say most definitely. But catch these shows before they disappear:
1.    Friday Night Lights (Fridays, 9 pm, NBC)
There is simply no show on television with a greater heart and emotional depth than FNL. And it's criminal that, in its third season, no one has noticed the show, and its stellar cast led by Kyle Chandler and Connie Bratton, since it still is in the ratings cellar after almost being cancelled by NBC not once but twice. Last season NBC worked out a deal with Direct TV, which showed this season for its customers last fall and NBC started running it in January. The season is almost over now, and so too are the remarkable story lines about the intertwining lives in Dillon, TX, and the fact that football really isn't what the show is about. Chandler, who plays the tough and smart Coach Eric Taylor, guides his players through game and championships in a town where football coaches are either revered or reviled. Along the way we see piercing portrayals of characters without stereotypes or phoniness. One of the most enduring is that between coach and player, as when Coach Taylor helps a former standout player, Smash, recover from an injury so he can try out for a college scout and therefore ensure that he has a real future for his family. That episode, "Hello Goodbye" contains some of the most moving scenes ever in the series, and marked the departure of the Smash character (played with aplomb by Gaius Charles). In this "recap" of Season 3, you get a sense of these two characters but also of the mythical town that is Dillon and what happens there on Friday nights.
2.    AxMen (Mondays, 10 pm History Channel)
In this riveting series, now in its second season, we follow five logging teams in Oregon as they compete to see who falls the most timber. There is danger all around, as teams of ax-men –even father/son combinations—struggle to make their livelihood as professionals one day and as human beings who can make costly errors another. Because this is the History Channel, there is a lot of very useful and insightful background throughout that describe the logging industry and how much it has served as a backdrop for understanding the great history of the Pacific Northwest. On another, more personal level, we meet the people behind what is truly a dangerous and awesomely difficult way to make a living. The competitions are so fierce because this what these men pretty much do every single day. This clip features an episode preview of just such dangers:
3.    Dogtown (Tuesdays, 10 pm National Geographic Channel)
"Dogtown" is part of the Best Friends Animal Sanctuary in southern Utah. As an animal shelter, it adheres to a strict "no-kill" policy, meaning that it tries to find ways to save and even rehabilitate canines who have met tragic or difficult living situations. As its website states, it is "the last best hope for problem pooches, and hundreds of dogs call this sanctuary home." As a dog lover myself, it is simply monstrous to me that owners or even "puppy mills" can allow these dogs to suffer any abuse, malnutrition, or any general mistreatment, as in the Michael Vick dog fighting case in Virginia. This show goes into how the staff at this facility tries to rescue those animals and bring them back to some semblance of a normal life, so that they can sometimes be placed in loving homes. In this clip, some of the surviving Vick pit bulls in fact were, in fact, recovered by Best Friends and will be the subject of an episode to be shown later this spring or summer. "Dogtown" is remarkable television and shows us what dedicated people do when they simply treat man's best friend as lovingly as is deserved.
4.    Chopped (Tuesdays, 7:00 pm, Food Network)
Ted Allen hosts this cooking competition that brings together professional chefs and gives them ingredients that they have to put together to make a three-course meal. Allen, who knows a little about the kitchen, seems more comfortable here than he does on his other FN show, "Food Detectives", which strays too clumsily into the Alton Brown territory. For that matter, Allen is more suited here than he ever was on "Top Chef" when he was one of the judges there. Is this a step down? Maybe. But Allen isn't even the focus here; it's the chefs who have to open up their baskets to discover typical items such as figs, canned corn, feta cheese, prosciutto and corn chips and then are told they have 20 minutes to create an appetizer. The judges here are somewhat well-known, and when Alex Guarnaschelli (who is exec chef at Butter in NYC and has her own terrific show on FN, "The Cooking Loft") is on the panel, expect nothing short of honest and helpful commentary from peer to peer. Sometimes the contestants are a bit too stuck-up and immature, sometimes they can't plate their food in time –and you can be sure the judges are there to smack them down when they do. The chefs are eliminated after each round or course and the winner each week takes home $10,000.
5.    Ru Paul's Drag Race (Mondays, 10 pm, LOGO (also on VH-1)
Tune in on Monday night for the season finale of this year's disposable TV event as finalist drag queens Nina Flowers, Bebe Zahara Benet and Rebecca Glasscock vie for the title of America's Top Drag Queen. RuPaul, the ne plus ultra of all drag queens and eminent Mother Hen here, is the quick-witted, sassy host of this "extravaganza-eleganza" camp fest, where the "ladies" perform each week, and a panel of judges gets to decide which one will "sashay" or "shantay" –uh, be kicked off. Sure, the production values are crap, and the prizes (a makeup bag?) are a bit laughable, but at least this show doesn't take itself that seriously. Blame RuPaul for a lot of the humor, fierce costumes and nurturing-by-way-of-catty nature. Stand back in awe not just when she shows the rest of the girls how to walk a runway, but also roll in laughter at her many quips she hurls in her own way.  In a recent episode, amid over-the-top costumes and flawless makeup work, the contestants had to transform a group of butch female extreme fighters into drag queens.
Related Posts