It's that time of year when Hollywood gets to pat itself on the back, honor the (allegedly) best that filmdom has to offer, give tributed to those dearly departed (Paul Newman), and hand out the entertainment industry's most prestigious honor, the Oscars. It's the 81st annual affair, this time hosted by movie and stage star Hugh Jackman.
Before the glamour and glitz, and the endless coverage, we will have to get through all the red carpet arrivals that the entertainment channels have been hyping for weeks now. We're referring to the moronic interviews foisted on us by the execrable duo of Joey Fatone and Lisa Rinna on the TV Guide Channel, and the vapidity of Giuliana Rancic over at E! and her erstwhile partner, Ryan Seacrest, who has seemingly made a yearly go at having celebrities either intentionally avoid him (Angelina Jolie) or publicly mock him (Jeremy Piven.)
This is all just fluff anyways. I mean, what else would you call fey, greasy George Pennacchio of KABC-TV of Los Angeles droning on and on in his yearly pre-Oscar special, literally fawning over these celebrities, many of whom may not have anything to do with the Oscars. (Expect the hangers-on like Paris Hilton or the vacant eyes of Audrina Patridge of "The Hills" for sure, looking to party.) And Pennacchio is only part of a so-called news team. In fact, the evening anchors of KABC host the yearly Oscar event, which would be very odd except when you consider that local news in LA is entertainment. I once spent a night in LA during which time the Grammy Awards were being handed out at the Staples Center. Why was I surprised that virtually the entire local news telecasts were devoted to this entertainment event, live crews and all?
Enough with the fluff, then. This was a terrific year for films and this year's nominees embrace both independent titles and established actors. Yet it was a year in which one of the most lucrative (and celebrated) films in history, Christopher Nolan's "The Dark Knight" did not get a Best Picture nomination. It was also a year in which a supposedly "feel-good" movie rose out of nowhere based on word-of-mouth, "Slumdog Millionaire", and earned a cool 10 nominations, including Best Picture and Best Director for Danny Boyle. Personally, the film's narrative style left me cold and with a headache when I saw it in Hollywood in November. I am not on the bandwagon at all but hope one day to revisit this whole thing on DVD.
Predicting the winners this year is not that difficult, though a few races seem to be tightening. Dave Karger of Entertainment Weekly, one of the industry's better prognosticators, has made his picks and I mostly agree with them. The LA Times "Envelope" section has been offering virtually daily handicapping, with some pros and cons and the all-important trends as to how Oscar voters might score their ballots. In a time when DVD copies of the nominated films have been circulating wildly in these past several weeks, the Motion Picture Academy voters have probably been saturated with a lot of good films and performances to watch. So what constitutes an Oscar winner? Here is how the races stack up for Sunday night:
BEST SUPPORTING ACTRESS
Amy Adams, "Doubt"
Penelope Cruz, "Vicky Cristina Barcelona"
Viola Davis, "Doubt"
Taraji P. Henson, "The Curious Case of Benjamin Button"
Marisa Tomei, "The Wrestler"
This would seem to be a race between Cruz and Davis at this point –Cruz because she has won the lion's share of awards already, but Davis is to be commended for singlehandly providing the moral compass of "Doubt" and her five-minute scene in which she outacts Meryl Streep is a marvel to behold. She is also an established film and stage actress who has a decent film resume behind her. Tomei has already won before, almost unbelievably for some, in 1992's "My Cousin Vinny" for a comedic role. Here she provides a lot of raw depth in her role as a down-on-her-luck hooker opposite Mickey Rourke. She is a strong nominee here, but I don't think she'll prevail. Ditto Adams, who was here a few years back in "Junebug", a nomination basically promoted by Roger Ebert at the time. She is young and gifted, can do comedy ("Enchanted" and Season 1 of "The Office") and can sing, plus she will be around a while. Henson, so good a few years back in "Hustle and Flow", has a fairly minor role here in a film that, despite its 13 nominations, has been getting less attention of late. So why will Cruz win? Because the Academy passed her over already two years ago for her lusty, brave performance in Pedro Almodovar's "Volver". Because this was another lusty, slightly wacky performance. Because Oscar has a way of rewarding actresses who appear in Woody Allen films –witness Dianne Wiest in "Hannah and Her Sisters" and Mira Sorvino in "Mighty Aphrodite" and of course, Diane Keaton's Best Actress win for "Annie Hall".
Will Win: Penelope Cruz
BEST SUPPORTING ACTOR:
Josh Brolin, "Milk"
Robert Downey, Jr., "Tropic Thunder"
Phillip Seymour Hoffman, "Doubt"
Heath Ledger, "The Dark Knight"
Michael Shannon, "Revolutionary Road"
It's very difficult to ignore the towering nature of Ledger's performance. It is one for the ages, really, and I say this without any irony or hyperbole; it's just a fact. No actor reached the depths (or heights) as he did last year, and yet it was perfectly a supporting performance. The emotional tug here is obvious, but it's hard to deny that it's also the most talked-about acting display. So much so that even back in July, when the film premiered, the Oscar races was basically locked up then. So why wouldn't the Academy, in any scintilla of a chance, choose not to honor the late actor? Well, because 1) it ignored the film in the Best Picture and Best Director categories and 2) his passing necessarily means he would not be honored for the promise he will show in the future. But this is also precisely why Ledger will win as well. Historically, the Academy has a tidy way of settling scores and being, shall we say, equitable: while it doesn't shower a film with expected nominations sometimes, it makes sure that it is rewarded in strategic ones. Ledger's win makes up for the ignored nominations on one level. On another, the win not only makes up for Ledger's 2005 nomination for Best Actor in "Brokeback Mountain", but Ledger's story would cap off what is expected to be the most emotional moment come Sunday night. Of the other nominees, Hoffman is strong, but he won for Best Actor already (over Ledger, in 2006). Brolin was terrific in "Milk", but I would argue he was just as good in "W", an almost cartoonish film that he singlehandedly dominated. Downey was hilarious in "Thunder" but actors rarely win for comedies. Shannon is very new to all this, and it's good that he is showcased in an inferior movie. His scenes totally obliterate his other co-stars. He will be around for years to come.
Will Win: Heath Ledger
BEST ACTRESS
Anne Hathaway, "Rachel Getting Married"
Angelina Jolie, "The Chanegling"
Melissa Leo, "Frozen River"
Meryl Streep, "Doubt"
Kate Winslet. "The Reader"
The big story when this nominee list was announced was the inclusion of  Winslet for "The Reader". Its producers had been campaigning for her in the Supporting Actress category, which she won at the Golden Globes and, in a rare feat, also won in the leading dramatic actress category for "Revolutionary Road". This is ludicrous. Her role in "The Reader" is so not a supporting one. While she certainly shines in "Road", despite its otherwise Oscar-baity leads and hint of phoniness, the film just doesn't stand up and consequently, it has virtually disappeared from the box office. In return, the Weinstein Company has mounted an aggressive marketing campaign for "The Reader", a vastly superior work that is almost European-like in subject matter and tone. That's also what makes Winslet so compelling –capturing not the just the terror of a tortured past but an absent self-awareness that becomes tragic. Winslet's real competition is Streep and this is in part because she is so lionized as an actress, one who has been nominated a record 15 times. And that's it. Her performance is fine, but it isn't a piercing or especially memorable one. Will we see her here again? Certainly, and this is a testament to her extraordinary acting abilities, even 30 years after her first win, for "Kramer vs. Kramer". Hathaway was picture perfection in "Rachel", and she shared the Golden Globe with Streep, but the film was probably not seen by many. And those who did see it sometimes found it a little tedious, what with all the wedding toasts and the single-camera techniques of Jonathan Demme. She too will be back. Jolie is simply a filler here. "The Changeling" was not a universally liked film, and her presence here speaks more about her notoriety and fame, and less about an especially memorable performance. That leaves Leo, who was heartbreaking in an independent feature –and a surprise nomination that might have gone to Kristin Scott-Thomas or Cate Blanchett. I would love for this underdog to win but, like Richard Jenkins in the Actor category, her mere presence is already her reward.
Will Win: Kate Winslet (finally)
BEST ACTOR:
Richard Jenkins, "The Visitor"
Frank Langella, "Frost/Nixon"
Sean Penn, "Milk"
Brad Pitt, "The Curious Case of Benjamin Button"
Mickey Rourke, "The Wrestler"
Industry watchers have long predicted that Penn will take this award. And they may be right. His performance as Harvey Milk has been widely praised for Penn's uncanny ability to really get "under the skin" of the character, his voice, speech inflections and mannerisms. Besides its emotional punch (and true story), it's a remarkably brave physical performance as well. Penn has been nominated several times before, winning in 2002 for "Mystic River", and has the respect of his fellow actors as well. Langella had a strong chance initially, and the Best Picture nod certainly improved his standing early on. But it's more of a showy, elegant performance that is merely respectful, and a gentle affirmation of a long career. Jenkins stands
no
chance whatsoever
for a film
that few
people sawJenkins stands no chance whatsoever for a film that few people saw, and has more of an indie feel (i.e., no-name stars) to it. Still it's a thrill that this venerable character actor is getting recognized. Pitt is the cipher here. He is the center of "Button", of course, but his performance is more technically compelling than anything truly emotional. His stigma has always been that he is not all that naturally gifted, despite his matinee looks –exuding none of the charisma of a Penn or a DiCaprio. Plus, his film has begun to lose a bit of the luster that carried it through its multitude nods; it will win some awards on Sunday but Best Actor will not be one of them. That leaves Rourke and Penn in my book. Penn could conceivably win this and thus show that it would be one of the major awards the film wins (it could win for Screenplay too, for Dustin Ian Black.) And it makes sense. It even works out politically since the film's subject matter is particularly timely in liberal Hollywood. But –and this would have been a big "but" weeks ago—I am going out on a limb and predict that this will be Rourke's Oscar. It's a gutsy, popular and comeback story that the Academy occasionally likes to honor. It's also a tremendous and honest portrayal, something that would have been unheard of for him in recent years. Rourke's win would in some circles be a tiny upset, but I also think it would provide the emotional heft that the Oscars are more than glad to display in front of millions.
Will win: Mickey Rourke
BEST PICTURE
The Curious Case of Benjamin Button
Frost/Nixon
Milk
The Reader
Slumdog Millionaire
With the exception perhaps of "Button", this is the place where the "Slumdog" juggernaut will continue to roll. The other films just don't have the sweep and emotional punch that (allegedly) "Slumdog" has, and one that has also earned it a total of ten nominations. "Frost/Nixon" is too talky and erudite perhaps, and while technically brilliant, just isn't the huge picture that will be remembered in years to come. Biographies don't always win in this category, and "Milk" will come up short here as well. "The Reader", with its intense campaigning, is being mentioned as this year's "Shakespeare in Love" –the film (also helmed by Harvey Weinstein) that famously won over the hugely epic "Saving Private Ryan" in 1998. But it would seem unlikely. Rather, with wins already in the bag for all the major awards shows, and especially the Director's Guild, "Slumdog" will be the one that cops the gold statuette.
Will win: Slumdog Millionaire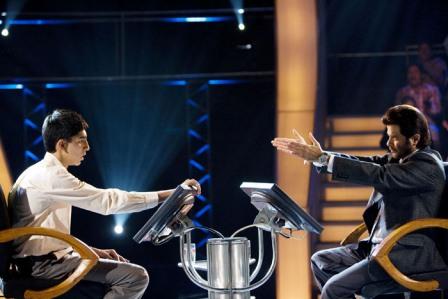 Related Posts