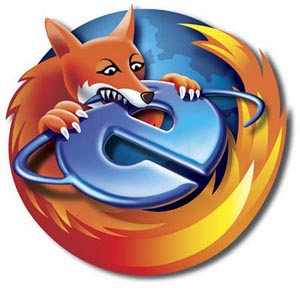 This week hell has officially frozen over, or so it would appear to the number of IE users who have been referred by Microsoft to switch to the browser's immediate competitor.
A warning to users surfaced this week, claiming that a flaw in Microsoft's premiere surfing engine could allow would-be hackers to infiltrate and gain access to users' personal files - or even take over their computers.
The "flaw" was spotted last week when hackers started attacking users of IE 7. However, it's not limited to 7 and  has also been found in earlier versions of Microsoft's browser, IE 5 and IE 6.
The Redmond software giant acknowledged on Dec. 16 that more than two million Windows users had already become infected via the IE flaw, according to an article by the Press Association. How many more people will get hit before the patch is widely distributed is anyone's guess.
Unfortunately, IE is used by seven out of every ten computers in the world, so the flaw is potentially very serious.  So far, it only seems to have been used to steal computer game code from rival gamers.
What should Internet Explorer users do?
• Change the program's internet zone security setting to "high". This should protect against all known exploits of this vulnerability by disabling scripting and disabling less secure features in IE. It is, however, likely to slow down a user's web experience.
• Log out of your computer and create a new user account which has limited rights to change the PC's settings. Log in as that user. This should reduce the chances of anyone being able to exploit the flaw should your computer become infected.
• Keep antivirus software up to date. This is likely to have only limited effect as most antivirus software packages only investigate files that are downloaded from the internet, rather than looking at every page visited.
• Switch to another browser, preferably Firefox. This is by far the best option.
[Via LankaNewspapers]
Related Posts