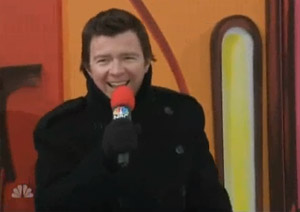 So there I was –so there we were, all 50 million of us, according to the ratings—sitting down on Thanksgiving Day to watch the 82nd annual Macy's Thanksgiving Day Parade. It's an institution and each year the "Today" show hosts try to uncomfortably sit through all the corny floats and engage in mawkish conversations with Al Roker and other C-list NBC actors (yesterday's were Oscar and Meredith from "The Office"). What would this most precious of holidays be without firing up the TV and watching high school band after high school band, dopey float (with a special nod to Disney) after float.
Yesterday seemed to be going as planned, and in fact everything did work out pretty smoothly during the 3-hour telecast. Hey! There's slutty teen phenom Miley Cyrus! She's singing that song "Bolt"! And there's the asexual American Idol runner-up, little David Archuleta! What the heck is the Varsity Fanclub and why do they look like they're in their 30s? It's the Broadway production of "Into the Heights"! Can't wait to get tickets to that! And how do they lay down that green pavement stage area in front of Macy's on Herald Square.
But what made the headlines yesterday was the brief Rickrolling that took place during the parade atop the Foster's Home for Imaginary Friends. "Rickrolling", of course, is that most American, and still popular, phenomenon in which someone or some event receives an unannounced arrival by 80s UK wavy-haired redhead Rick Astley, singing his most awesome single "Never Gonna Give You Up".
What a brilliant move! Appearing about one minute into the corny puppets' float song, Astley looked as if he was literally intruding, appearing inside the float and into the parade, and the crowd went wild. I, however, had to explain to my nieces, ages 7 and 9, who Rick Astley was. They were glued to the TV because Demi Lovato was coming on. I say kudos to the normally staid and predictable people over at NBC for maybe starting a new holiday tradition for all of us to see on Thanksgiving mornings, as we all await our turkey dinners. It would at least give Rick Astley a little work each year.
Most Popular Posts