Well that didn't take long. Not even 24 hours had passed since John McCain, in only his reportedly second meeting, announced that Governor Sarah Palin of Alaska would be his running mate, that the knives have come out from all corners. While social conservative types like Pat Buchanan (whom Palin supported in 2000) and Rush Limbaugh are beyond themselves in rapturous excitement, much of the media and other rational heads have called the pick the single biggest political gamble they had ever seen in modern American history. Ed Rollins, former Reagan henchman and former supporter of Mike Huckabee, has admitted just as much. David Gergen, former administration official under both Republican and Democratic White Houses, an Independent and respected analyst, told Wolf Blitzer he had not seen this coming. A gamble, yes, but one that had potential to possibly ruin McCain's chances to be President.
The usual suspect of Democrats or Clintonistas are naturally apoplectic. Horny toad James Carville declared himself at "a loss for words" to Larry King on Friday night. This before taking apart Stepford Wifish Nancy Pfotenhauer, once respectable economist-turned McCain acolyte on payroll for repeating over and over again that Palin was the most popular governor in the country right now. As if that brings experience and as if the former mayor of Wasilla, AK three years ago is poised to become Commander in Chief should, God forbid, something happen in the next few years to the 72-year-old McCain. To think this was the most qualified of all Republicans –even, to take the female argument, Sen. Kay Bailey Hutchison of Texas—that McCain could have chosen only points to the political contrivance of this all.
In the meantime, the media has quickly made mincemeat out of Palin already. She is a darling to the extreme right wing, the James Dobson-types who see in her a pro-life (opposing abortion, even, if you can make sense of this, in cases of rape or incest), gun-toting, family-values self-described "hockey mom". She is personable enough, wears that bun on her librarian head well, but does she have the gravitas to become second-in-command to the presidency, and who is present at all national security meetings?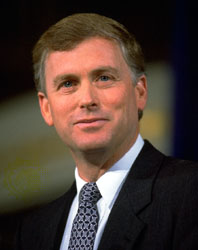 McCain fanboy and former Dan Quayle chief of staff Bill Kristol has gone so far as to entitle his editorial in Monday's New York Times, "A Star Is Born". Ugh. Are we to believe the moronic Steve Doocy, of the execrable "Fox and Friends" morning chat-a-thon, who marveled that Palin actually does have foreign policy experience because of Alaska's proximity to Russia? Cindy McCain also made the same point this morning on "This Week". "You know", she told George Stephanopoulos, "the experience that she comes from is, what she has done in government — and remember that Alaska is the closest part of our continent to Russia.". McCain sure surrounds himself with some ditsy trophies, doesn't he:
In any case, the naysayers are literally foaming at the mouth in what they're uncovering about the perky Alaska governor. The story that seems to have legs is that she tried to have her former-in-law fired as a state trooper. This past summer she was accused of firing the state's Public Safety Commissioner who had rejected repeated requests to fire the state trooper –who was once married to her sister. Palin is accused, generally speaking, of simply abusing her power. For someone who was ushered in to the famously corrupt state of Alaska in 2006 on a reform platform, this case gives some pause and she is currently under investigation by an independent commission. What else is in Sarah's closet? Let's see –her husband and 19-year-old son are not registered Republicans. Her mother is supporting Obama. She –as was hinted above—had only met McCain one time before last Friday. And so on.
So let's leave the trenchant, classy political analysis to none other than Diddy. Not P. Diddy. Not Puff Daddy. Not Puffy either. That's so 1999. See, someone in Diddy's posse of check earners must have taught him what a video blog (sorry, "vlog") was. Because now Diddy, who is never at a loss for words, is releasing a series of clips that cover whatever dim thoughts happen to be bustin' out of his shades-wearing head. Apparently someone also told him the news about Palin, and he isn't too happy. Or he is buggin'. But shouldn't he be happy? He is, after all, on Obama's team and has been once again charged with getting out the vote among young people. Let's see if this dizzying (don't worry, the spinning stops at around 1:20) video clip affirms what we have always thought of Mr. Sean Combs: not only is he a shufflin' lazy rapper, but really it's best when he doesn't open his mouth. Vote or Die? I think the choice is obvious.
Related Posts