John Edwards' announcement of a sexual affair with a campaign staffer on Friday is a whopper on a few levels. The former Senator from North Carolina, running mate of John Kerry in 2004, and more recently, populist Democratic candidate for President, deemed Friday to be a good day to bury this story amid all the Beijing Olympics hoopla. The hope, perhaps: get the story out quickly, make a brief "official" statement and hope few will notice. Yet this story is all the more significant for what it says about the betrayal of Edwards' family and supporters while at the same time raising questions about how the mainstream media dropped the ball entirely.
The story is sordid, but not unfamiliar. A dapper, handsome politician finds carnal comfort with a younger woman and seemingly keeps it under wraps, thinking that the mainstream media (MSM) won't notice much. That almost happened. The 55-year-old Edwards had hired Rielle Hunter, 44, to produce videos for his campaign as far back as 2006, when the affair is alleged to have begun. A sexual "liaison" (his official term for the romp) started at the same time that his wife, Elizabeth Edwards was in remission for breast cancer. A child was born to Ms. Hunter and an undetermined father (the name was left off the certificate) this past February, and Edwards was quick to deny that he was the baby-daddy. Another Edwards staffer and model citizen, Andrew Young, is said to have come forward as the real father.
What's odd is that this story really is not new –at least not in the blogosphere. Mickey Kaus of Slate has uncovered sordid details of the scandal since 2007, and in October 2007 ABC News had been picking at it, but never truly reporting on it officially.
Recently, North Carolina papers and mainstream media outlets followed. There were rumors and then photos of Ms. Hunter for a while now, residing in opulent houses and condos in North Carolina and Santa Barbara. There have been questions raised about how a staffer and sometime videographer could afford such digs. Questions now center on whether the Edwards campaign or his supporters paid Hunter off somehow, a hush money of sorts, with or without the Senator's knowledge.
(For a taste of Hunter's work, see this "webisode" which she produced in 2007, presumably for his campaign. She is off camera but can be heard in the clip, which features Edwards who doesn't want to be seen as a "Ken doll".)
The rumors picked up steam with the involvement of the non-MSM National Enquirer. It managed to corner Edwards at around 3 am in a Beverly Hills hotel last month, trying to arrange a late-night meeting between him and Hunter, and what it called the "love child". Photographers and reporters honed in, got their story and this week ran an Enquirer cover picture of Edwards holding a baby girl. Edwards, for his part, refused comment at the time except to say at the time that all the "tabloid trash" was untrue.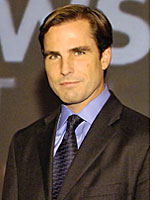 It wasn't, as Edwards himself noted, and was forced to seek out Bob Woodruff of ABC News yesterday and make his statement. There was simply too much evidence out there that the Enquirer –that somehow nasty pipsqueak of a news outlet that peddles rumors, in the view of many esteemed news organizations; it's also the same outlet that has been relentless in trying to figure out why the MSM has not uncovered this sooner. The reason, it seems, is a general smugness. The MSM, with the New York Times at the very top, seems to feel that it alone controls the flow of information and will not bow down to rumors that may or may not be substantiated. You won't see a headline above its masthead about a late night rendezvous with Edwards anytime. And it was not until the bloggers and the local North Carolina press pushed the story with increasing pressure that both Edwards and the MSM had to fess up. The problem, however, is not just that the Times or the Washington Post or other elite media outlets have egg on their faces. It's that they seem to be overly cautious or even selective in choosing who to report on. Since the MSM surely knew about the festering rumors, did they not expose this out of deference for Mrs. Edwards, who was battling cancer? Was the MSM just being considerate and discreet?
The whole Edwards story should have been uncovered then just as it is now because of who he is. This is the "family man" candidate, the populist who, despite his personal wealth, claimed to champion issues of human rights and made poverty the centerpiece of his strong, though ultimately failed campaign. Edwards stood beside his brave wife, and it was a joint decision that he continue his campaign; often, it seemed that his articulate wife was even more of a powerful voice than he on the campaign trail, and they made well-publicized TV appearances, such as The Oprah Winfrey Show. The Edwards family was well-known –not just for tragedy it had suffered (son Wade killed in a car crash), but the formidable power couple that John and Elizabeth Edwards became in North Carolina and, of course, Mrs. Edwards own personal struggles that she documented in her recent biographical best-seller.
Edwards effectively crushed his political career yesterday. Again, this all became newsworthy because his name, as an Obama supporter, was being bandied about as a possible Attorney General in an Obama White House, or a high-level cabinet position. (Interesting that his name, perhaps because of the scrutiny that is attendant to it, was not mentioned as a possible VP candidate in the same vein as Evan Bayh, Tim Kaine, Chuck Hagel or Hillary Clinton.) He has snuffed out any possible consideration for this or anything in the future. The same man who in 1999 made a much-noted rebuke of then-President Clinton for his own indiscretions and "remarkable disrespect for his office", apparently could not contain himself either.
Is this why the MSM stayed away? That it would be seen as going after someone's personal life again, and in this case a Democrat? What Edwards did was shameful. He brought shame to his family and performed the ultimate betrayal on his wife and family. He had sex with Hunter but claimed, in a gentlemanly way, that he did not "love her". And he acted while his own wife was in remission, as if that means anything –or as if he doesn't hear the cruel words he is saying. Towards the end of his brief statement yesterday, he had this to say about he was dealing with all this:
It is inadequate to say to the people who believed in me that I am sorry, as it is inadequate to say to the people who love me that I am sorry. In the course of several campaigns, I started to believe that I was special and became increasingly egocentric and narcissistic. If you want to beat me up - feel free. You cannot beat me up more than I have already beaten up myself. I have been stripped bare and will now work with everything I have to help my family and others who need my help.
It's hard to have sympathy for Edwards. He lied to his family and supporters in the same way that Clinton told his own cabinet members to go out and defend him. Edwards knew these rumors were out there even in the past year during his own run for the presidency, yet he still took money from his supporters for what was a sizeable campaign. And in this same context, because of his name recognition and fame, it should have been the responsibility of the press to investigate these matters more fully. How mighty the once-bright have fallen—but we're not just talking the man. We're talking about a press that was asleep at the wheel.
[Via ABC News]
Related Posts