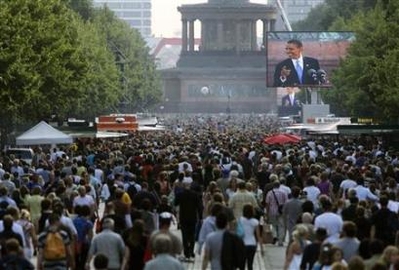 You would think that after a much-ballyhooed, mostly very successful swing through Afghanistan and Iraq, and a trip through some European capitals last week, Barack Obama would be rising even higher in the polls.
His speech in Berlin, in front of an estimated 200,000 people, was on the front page of every newspaper and on every newscast. The German press, for the most part, applauded the speech and saw in Obama a fresh new departure from what have been troubling years with the current Bush White House.
From the looks of it, France's Nicolas Sarkozy found a new American friend in Paris, wildly shaking his hand and agreeing to a rare dual news conference after their meeting in the Elysee Palace. (When McCain visited Sarko recently, McCain was left to find his out and search for the cameras.)
In any case, the tour enjoyed extraordinary coverage and Obama himself seemed very pleased with the results of what had been, let's face it, a very carefully scripted expedition from start to finish. Every single Kodak moment was deliberate and determined; this was a fully-paid planning staff that spared no detail in delivering a trip that would dispel the notion that their candidate was weak on foreign policy. The objective was to make him presidential and to show this abroad —and where it mattered the most, according to the campaign: two extreme hot spots where wars still wage, although in Iraq, where there is a surge that may or may not be working. It's hard not to see last week's tour as some kind of political ploy or one-upsmanship. After all, it was McCain himself who told Obama to visit Iraq in the first place.
But does the average American care? If he did, wouldn't we expect to see this expressed in the current polling? Well, not really. Rasmussen this morning, in its daily tracking, still has the race at 45% to 42% percent, with Obama in the lead. Gallup has it at 48 to 40% for Obama, with a slight decrease over what it was on Friday, which had 49% going for Obama. What does this mean? For many political observers, a 50% benchmark is serious business and no major national poll, not NBC/Washington Post, New York Times, Newsweek, or Zogby, etc., has either McCain or Obama reached this ceiling. Thus the post trip Obama bounce, even as the McCain campaign ambles along clumsily in a rickety golf cart, hasn't seemed to materialize.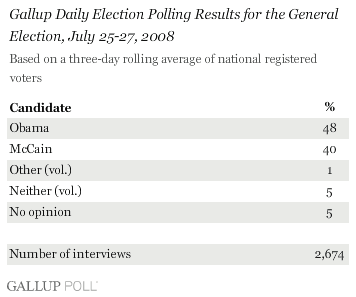 It's easy to speculate why this is the case. Americans by and large don't follow Presidents on foreign trips, much less Presidential candidates. Despite precision planning by his staff, Obama did not explicitly invite the press corps, as in the main network talking heads; they came running to him. Americans probably felt this was all too much of a spectacle anyways, and probably tuned out altogether. Some may have felt that, in McCain's words today, that the whole trip was a "presumptuous pre-victory lap". They might even have been charmed somewhat by the competing spectacle of Obama speaking to the throngs in Berlin, Germany while the crusty Arizona senator was breaking bread in a German deli in Berlin, Wisconsin. Hey, it's all about the symbols.
I suspect, however, that despite his high profile tour, those who remain undecided about Obama still find him to be an enigma. Working class whites, the same disaffected bunch from states like Ohio and Pennsylvania, probably could care less about him appearing with General David Petraeus last week and talking about the surge's possible success. (As Bob Novak observed today, Katie Couric scored in-your-face points towards Obama on national TV last week about whether he now felt the Iraq surge was working when he didn't think it was before.) Those voters who identify as moderate liberals, undecided or undereducated are precisely the ones who really do not see themselves among the wide-eyed crowds in Berlin.
They may not even know what country Berlin is in. They have jobs they fear losing, homes that are foreclosing, food that is getting more expensive each day, etc. I'm not knocking this particular electorate, but I am saying that Obama needs to keep this group close to him. Unfortunately he runs the risk of simply assuming he has their best interests in mind. To assume that because "their" candidate, Mrs. Clinton, is no longer in the race does not mean that they will pay close allegiance to Obama now. Obama needs to regroup and focus, and brush off the angel dust from his globetrotting week. The economy is still where he found it before, aching and suffering and certainly the most important issue on all voters. His meeting today with his economic team, an all-star bunch including former Federal Reserve Chairman Paul Volcker and former Clinton Treasury Secretary Robert Rubin, is a welcome step towards a proper re-entering of the Earth's surface.
Finally, in the Obama VP sweepstakes watch, the current favorites are Virginia Gov. Tim Kaine, and Senators Jack Reed (Rhode Island) and Chuck Hagel (a Republican, from Nebraska). All good choices, and the latter two traveled with Obama last week. John Edwards is probably out now. Hillary's "two-fer" prospect is still problematic. Bill Richardson is nowhere, it seems, on the radar. Let's see if his choice, which probably will happen before the start of the Olympics before we are deluged with that coverage, will launch him into the 50%+ stratosphere. Or McCain. We'll see.
Related Posts