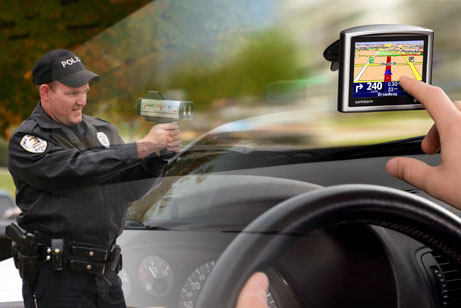 Back in October of 2007, a story came out of Windsor California involving Shaun Malone — a teenage boy whose parents installed a GPS tracking device in his car with intentions of spying on his driving habits. The Malones installed the device to record his speed and have the tracking device send signals (even e-mails) every 30 seconds reporting the exact weight of his lead foot.
Well, Shaun ended up getting a ticket but claims this time, he wasn't speeding – and he can prove it. After receiving a citation for going 17 miles over the speed limit, he used the recorded GPS data to show (like an airplane's black box) that he wasn't traveling at the reported speed of 62 in a 45 mph zone. In fact, the GPS tracker showed he was going exactly 45 when the police radar clocked him at 62. Huh?
To the Malones' chagrin, Shaun was found guilty with the response (from an expert) that the device was inaccurate.
Recently there was a hearing in Sonoma County Superior Court earlier this month and the Malones appealed the decision. During the new trial, the same GPS expert who claimed the device was inaccurate pulled a 180 and said the device was accurate after all – "within a couple of meters on location and to within 1 mph on speed".
Going forward, the judge expects to issue a ruling in October after hearing additional testimony from both sides' experts.
This is certainly an interesting case, and one can't help but wonder about the potency of the GPS information and how this will be weighed in the courts and ultimately in the law books.
In a previous case, GPS tracking information has proved useful in getting tickets thrown out of court. Jeff Tomlinson, a sales associate for Rocky Mountain Tracking said a Colorado judge dismissed a speeding ticket against him after Tomlinson produced his GPS history showing he was obeying speed laws.
Check out the RMT Rover on RMT's product page.
If GPS tracking data can be used to prove innocence, can it also be used to prove guilt? Could an officer confiscate a tracking unit to prove you were going 60 in a 50? Logic would say yes, but certainly if this were the case we'd be screaming for our privacy in the streets while ripping the units out of our cars like an abscessed tooth (sorry).
Clearly the implications go far beyond any slap on the wrist Shaun might receive if he's ultimately found guilty – it could change the way speeding tickets are negotiated in the future. And with the computer-controlled nature of the GPS tracking device itself (some run on Windows CE), what would prevent a clever owner from modifying a couple of internal files and change the "6″ in 60 to a "5″?
Stay tuned.
[Via The Press Democrat]
Related Posts