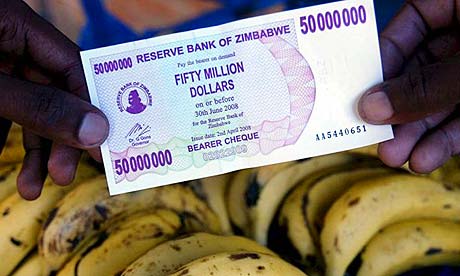 So you're Robert Mugabe. You're an 84-year-old embattled tyrant, excoriated the world over for winning yet another rigged election to be the President of Zimbabwe, a post you have held since the country's founding in 1980. Your main opposition leader, Morgan Tsvangiri, dropped out of the run-off race days before election day, taking refuge in the Turkish Embassy, and fearing for his life.
He says the election was a sham. The entire world agrees, though the various official condemnations from the UN Security Council seemed watered-down and weak-kneed. At this week's heavily-secured meeting of African leaders in Egypt that you're attending, there is a lot of rancor, but really no consensus because countries like South Africa and Kenya think you're not such a nasty ruler after all.
So now you are among the urban dwellers living in Harare, the capital. You probably have a miserable job and are used to continual power outages, and shortages in food and fuel that allow you to live a somewhat pitiful life. You live in a country where the annual rate of inflation is now over 1 million percent. You live in a country in extreme economic freefall, where a loaf of bread costs you 50 billion Zimbabwean dollars (That's 10 zeros to the right.).
It's hyperinflation that boggles the mind and you have carry around fat mounds of paper notes in order to fetch the increasingly scarce items like a can of Coke (15 billion dollars), meat, or kerosene, when you can find it. And like a country where the value of your currency literally loses its value daily, you need to replenish that supply of cash all the time, even if –get this—local banks limit you to 25 billion dollars in withdrawals.
Back to Mugabe, whose ruling ZANU-PF party acolytes (you know, besides the murderous youth militias), must be reeling at what the Wall Street Journal is reporting this morning: the company that produces the blank bank notes, with all the fancy watermarks and special anti-forgery technology, has called it quits after almost 30 years. The Munich-based and, apparently secretive company, Giesecke & Devrient, under pressure from the German government, announced that it would no longer provide this service to the Zimbabwean government.
This is a company that was regularly airlifting tons of paper sheets to Harare providing something rather specialized –and therefore prized by Mugabe's regime for decades. By the way, G&D is being a bit skittish about all this. After all, this same firm also used to earn its living by making worthless cash in the past to prop up those stable governments of Weimar Germany and Franco's Spain.
So here we have a country in total downward spiral and there is nothing, literally, to keep it together. The headline in the Wall Street Journal made this point cleverly: "Zimbabwe Can't Paper over Its Million-Percent Inflation Anymore". Currency is an important determiner of a nation, and even if things have gotten out of control here, it was still the very real day-to-day glue that made possible the pathetic transactions that held the society together somehow. Imagine Zimbabwe no longer having this any of this because there is no money –or at least a safe method of producing it. Yes, the Zimbabwean Dollar (ZWD) is a global joke, given the hyperinflation, but it is at least something malleable to those who try to eke out a meager existence.
G&D's decision to stop printing bank notes was surprising, but the money crisis in Zimbabwe has been an on-going nightmare. In a country that has lost all viable accounting and monetary policy, this isn't such big news. That the government can't do much about it speaks to the increasing time bomb that has created itself. Forget who won the phony election on Sunday and never mind the thugs who are currently rounding up—and roughing up– those who did not vote for Mugabe; the economy cannot sustain itself.
According to the Wall Street Journal article, bank notes in Zimbabwe don't last more than a few weeks because they lose value so quickly. You can't even use vending machines in Zimbabwe anymore; they take coins (think about it.) The potential that there may be no money, or no mounds of cash that buy virtually nothing, is real and it would be felt by everyone.
Those political scientists who have lamented the "death" of the state in Africa in recent years now have a vivid and frightening poster child. For not only can't this state define a stable currency for its lurching economy, but it can scarcely control the means of its production on a very practical level that everyone can see. Could one imagine future theorists of democratization positing that a country needs to have an unbiased judicial system, a free and open press, in addition to the ability to control who prints out the money for your citizens?
The running disaster that is Zimbabwe is probably a long way from the somewhat vibrant, more self-sustaining country that I saw first hand in the early 90s, and we Americans are far too removed from all this, even with our own day-to-day doldrums. Yet even with this bank note crisis, the silver lining may be that if Zimbabwe simply stops printing money altogether, hyperinflation would be gone and it would be forced to start over again. What's worse? What Zimbabwe has now?
Most Popular Posts